Singer and actress also busy with her first book and new album.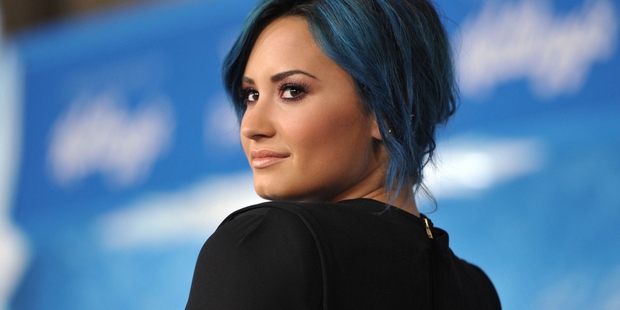 Demi Lovato is taking a quick break on set from filming the next elimination episode of X Factor USA when she calls. The judge/singer/actress is having a very busy year, working not just on X Factor, but also joining the cast of Glee, releasing her fourth album, Demi, releasing a book called Staying Strong: 365 Days A Year, and preparing for her 2014 Neon Light tour.
"It does sound like a lot," she laughs. "I've been working really hard on some of those things for a while now, so they're all just coming together, with the book, and the album, so it's actually great. I think being busy comes easy to me too. I enjoy it."
She's also very much enjoying being back on X Factor - working with Simon Cowell last year didn't put her off doing a second season as a judge, and she was delighted to be asked to return.
"It was definitely a great vote of confidence. I was very excited to come back. Working with Simon is actually a lot of fun, and being able to mess around with each other on set, it's always a great time."
Having three female judges mixed with Cowell this time (instead of the previous two men, two women) hasn't been a problem either.
"I thought all four of us were women," she jokes.
Getting to work with the girls category this time around was also a dream come true for 21-year-old Lovato.
"It was definitely the category I wanted - it's really awesome for me to be able to relate to them and mentor them."
And she says it's definitely the calibre of the contestants that make the audience keep coming back to the show year after year.
"I think the contestants are what make it successful. What's more powerful than just watching people take a leap, try to fulfil their dreams, and sing for us? You know, there's lots of big production values and so on, but I think underneath it all, it's about the singing and the stories. Sometimes it's more powerful to leave all the jewellery off, and just wear something simple."
Time spent mentoring the contestants also helps remind Lovato of the struggles she's faced herself, and how far she's come, and how to keep going.
Lovato has been in the spotlight from a young age - she appeared as a child in TV show Barney and Friends alongside Selena Gomez - and was just 16 when she came to prominence in a TV film called Camp Rock, but she was bullied a lot at school, to the extent she asked to be home-schooled.
She's also had battles with depression, and eating disorders, but has always found writing music to be a great motivator.
"All of my contestants have reminded me of the different things I've struggled with.
"Personal and professional things ... It is a scary world, but I think if you're doing what you love, nothing is going to stop you, and I think that's true for all of my girls, and I'm so glad they're going for it, rather than looking back later and thinking, I wish I'd given that a go."
TV/Music profile
Who: Demi Lovato
What: Appearing as a judge on X Factor USA which screens Thursday and Friday nights at 7.30pm on TV3. Also appearing in season five of Glee.
Listen to: Most recent album Demi.