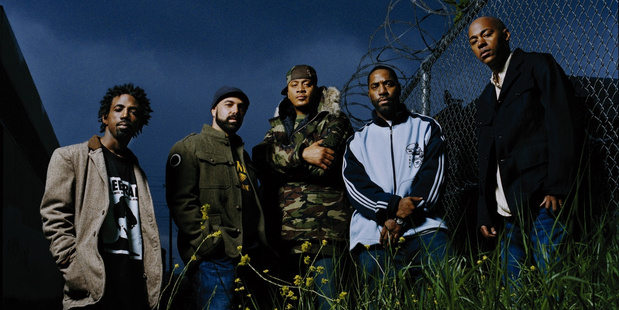 Reunited hip-hop throwback legends Jurassic 5 have added two New Zealand tour dates to their reunion tour.
The What's Golden hip-hoppers will play two shows: On March 26 at Auckland's Powerstation, and at The Bedford Marquee in Christchurch on March 27.
The Los Angeles collective - featuring DJs Nu-Mark and Cut Chemist, and the voices of Akil, Zaakir, Mark 7even and Chali 2na - released the classic Quality Control album in 2000 to huge critical acclaim.
They went on to release two more albums and were known for their laid back old school style with occasional pop flourishes, but broke up in 2007 as the band's members focused on solo careers. Both Cut Chemist and Chali 2na have released albums.
But they reformed for this year's Coachella music festival, with Cut Chemist telling Billboard there was "good energy" in the band and they were "having fun" touring again.
Jurassic 5 have played New Zealand twice before: A show-stealing afternoon performance at the Big Day Out in 2002, and in 2007 at the St James in Auckland.
Tickets go on sale on December 11 at 9am from www.ticketmaster.co.nz and www.minttix.com
Listen to 12 great Jurassic 5 songs
Warning: Some songs contain explicit language
Follow nzherald_ent on Spotify for more playlists.
Jurassic 5
March 26: The Powerstation, Auckland
March 27: The Bedford Marquee, Christchurch
Follow @nzherald_ent on Twitter for all the latest entertainment news.
- nzherald.co.nz