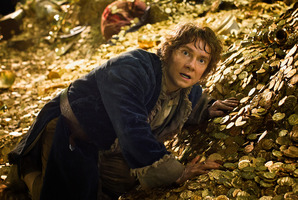 Several sets of sticky fingers have been at work on the New Zealand set of Peter Jackson's new Hobbit film.
But the pilferers weren't intruders - they were the stars of the movie.
The Kiwi director was left shaking his head at a press conference for the film in Los Angeles on when a reporter asked Evangeline Lilly, Benedict Cumberbatch, Richard Armitage and other cast members if they'd kept any souvenirs from The Hobbit: The Desolation of Smaug.
"I'm going to be interested in this answer too," Jackson, looking across at his ensemble, said.
A lot of the pilfering apparently took place on the set where the dragon, Smaug, lives among a vast sea of gold coins, jewels and treasure once owned by Dwarf Kingdom of Erebor.
"I do remember there was a note on one call sheet one day that said 'Would cast and crew members please kindly stop taking the dwarvish coins from the big mound'," Welsh actor Luke Evans, who plays the mysterious Bard, a resident of Lake-town, said.
Cumberbatch, who voices Smaug, said because he was voicing a digitally-created character, he get see a single gold coin on set.
"I didn't get to steal anything, but I did inherit a very sore throat and lots of carpet burns," Cumberbatch, who threw himself around while voicing Smaug, said.
Lilly admitted her thieving came during a scene shot on the edge of New Zealand's Lake Pukaki that involved a beautiful moon rune.
"I'm going to confess in front of all of you and in front of Peter and (screenwriter) Philippa (Boyens)," the former star of the TV series Lost announced.
Lilly said she didn't realise she had the rune in her pocket until she got back to her trailer.
The Hobbit: The Desolation of Smaug is the second of three Hobbit films and Jackson didn't appear impressed by Lilly's confession.
"That scene is in film three," Jackson said.
"I think we might have to cut it out."
Next into the confessional booth was English actor Richard Armitage, who plays the exiled dwarf king Thorin.
"I did steal every single pair of costume socks because we were given a brand new pair every day," Armitage said, generating laughs from Jackson and his cast mates.
"That's the most boring thing in the world to steal," Jackson said.
"Is there anything else boring you stole? Underpants?"

-AAP