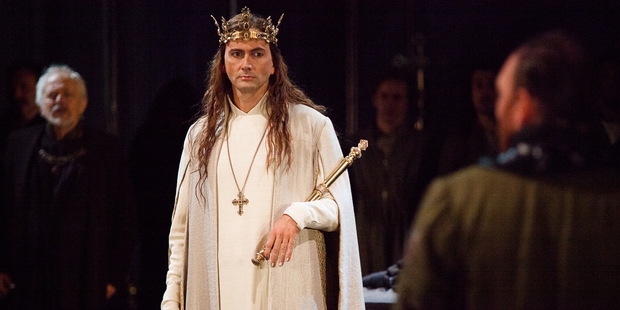 Building on the success of the NT Live filmed theatre series, this film of a production by the Royal Shakespeare Company may be the first of many.
The Stratford-upon-Avon production of the famous "lyric tragedy", which is still playing in London, is also the beginning of a six-year project to stage all 36 plays, of which at least half will have a cinematic life: quite how many are seen here will depend on the level of audience support. It's a belter of a debut it has to be said. Tennant, best known as Doctor Who No.10, dazzles not just with his vivid delivery of the poetry but with a fabulously textured incarnation of the eponymous monarch. Starting out vain and capricious, even slightly camp, he morphs into a figure of fragile but profoundly moving dignity; Henry Bolingbroke (Lindsay), later to become Henry IV, changes from a wronged nobleman to a truly malign presence.
Little performed at the top level (although it made the names of Gielgud and Scofield), Richard II is nonetheless no dusty history: it's a hugely compelling meditation on power, loyalty and treachery, in which Shakespeare shows magisterial command of structure and metaphor. It is also a bravura display of poetic genius, which bequeathed us the "this sceptr'd isle" speech, "the hollow crown" and (my favourite) "I wasted time, and now doth time waste me".
The curious decision to mike the actors gives us a soundtrack that is alienatingly muffled, though one quickly accustoms. Any fault is redeemed by a spellbinding design, in which the scenery is created entirely by light. This is a special production for lovers of Shakespeare and for those who have not learned to love him yet.
Stars:
5/5
Cast:
David Tennant, Nigel Lindsay, Michael Pennington, Antony Byrne, Oliver Ford Davies, Jane Lapotaire
Director:
Gregory Doran
Running time:
200 mins
Rating:
E
Verdict:
Something special this way comes
Follow @nzherald_ent on Twitter for all the latest entertainment news.
- TimeOut