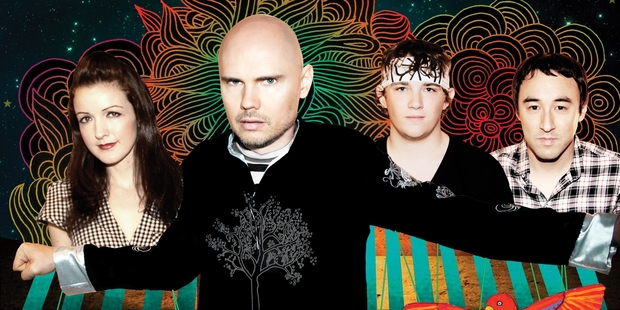 The Smashing Pumpkins won't be coming to the Big Day Out next year as replacement's for Blur.
Big Day Out promoters have ruled out a number of big name bands from replacing Blur at next year's Big Day Out festival ahead of tonight's announcement.
The announcement of up to four acts to replace Blur will be made at 5.40pm (NZ time) on Australian radio station Triple J, co-promoter AJ Maddah says.
Bands that won't be on the list include the Smashing Pumpkins, Massive Attack, The Black Keys, AC/DC, Pulp and Guns N' Roses.
Up to four new bands will be named to replace Blur, who quit just eight weeks out from the Australasian festival citing the "constantly shifting goalposts and challenging conditions of the organisers".
Maddah confirmed that the announcement includes one band from the UK and two from the US, and that paperwork from one American act is holding up the announcement.
Maddah took to Twitter today to respond to fan queries about who the acts might be, also ruling out Atoms For Peace, Jane's Addiction and Jamiroquai in the process.
@nzubok Well and truly done. Announcing this afternoon

— AJ (@iamnotshouting) December 3, 2013
@WahJag @ryanbrasher_ Nope. No Black keys

— AJ (@iamnotshouting) December 3, 2013
@jeremysstorm Nope. Not available

— AJ (@iamnotshouting) December 3, 2013
@ryanbrasher_ None. We tried. Thought we were very close at one point...

— AJ (@iamnotshouting) December 3, 2013
@titirangiboy sadly they are not currently active :(

— AJ (@iamnotshouting) December 3, 2013
Fasterlouder.com.au reported that the bands Foo Fighters, PJ Harvey, The Cure, Jane's Addiction, Outkast, Daft Punk, The Strokes, Prodigy, Lily Allen, No Doubt, Rammstein and Lady Gaga had also been ruled out of performing at the festival.
The Big Day Out is set to kick off on Friday, January 17 at Western Springs Stadium and Park in Auckland with Pearl Jam, Snoop Dogg, Arcade Fire and Major Lazer.
- nzherald.co.nz