Cabaret show is a night of 'dirty fun' with a dark take on pop imagery.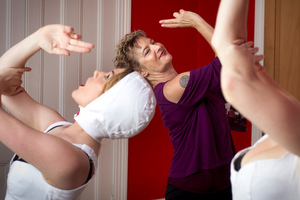 Provocative - not pornographic. Parody - not propaganda. And it takes the mickey out of every male fantasy, according to Mary Jane O'Reilly, QSM, creator, choreographer, director and producer of the contemporary cabaret show, In Flagrante.
O'Reilly has lived for more than 30 prestigious years at the forefront of New Zealand's dance scene. She was co-founder of the iconic Limbs Dance Company; in 1990 she choreographed the opening ceremony of the Commonwealth Games - for a cast of 6000 - and the full-length work Jean Batten for the Royal New Zealand Ballet. She founded and directed the Auckland Dance Company from 1996 to 2001; lectured in dance at the University of Auckland from 2001-04, and from 2006-11 was artistic director of Tempo Dance Festival.
She now finds herself, with just the faintest blush, "paying girls to take their clothes off". But she also finds herself, while looking forward to receiving her Goldcard in the not too distant future, with "a new voice, a voice I can own, that is satirical, smart - and a lot of fun".
"As you get more, hmmm, 'mature', your place is not so clear," she says. "I have been through all that and now I am out the other side." So while a sweet ballet school portrait of a maybe 5-year-old Mary Jane peeps down from a mantelpiece in the front room/private dance studio of her Herne Bay villa, the smart and sassy O'Reilly is busy creating another new dance genre for the country - and perhaps the world.
It is not burlesque, another scantily clad dance form that has recently undergone a brisk revival. "Gorgeous girls just faffing around," she says of the burlesque style. "Not enough dance in it for me." Nor does her new work fit the classic cabaret modus operandi, which tends to focus on a solo singer, though she admits an interest in and perhaps an inflection from the German cabaret of old.
O'Reilly likens her deviant dance baby, with its rather dark take on pop imagery and flirtation with fetish, to the demi-character dances of her childhood. Contemporary dance aficionados might see an echo of her early, playful and cheeky choreographies in Limbs.
In Flagrante's troupe of five gorgeous girls are all trained dancers with performing arts degrees. The hour-long show features 14 sophisticated vignettes that explore sexual politics, stereotypes and foibles in finely crafted and art-house style, all set to Austrian musician Klaus Walldeck's compelling Ballroom Stories.
Her partner, Phil O'Reilly, a graphic designer, has had a lot of input into the costumes, concept and design. Mary Jane's choreographic experience has also honed the deceptively simple movement vocabulary to fit the ideal cabaret venue's stage of about 4sq m. It is a show designed to be very up-close and confrontingly personal.
It had its first outing for the Rugby World Cup, where it went down a treat in the lobby of Wellington's St James Theatre. Reviews from its recent successful season at the Edinburgh Fringe Festival deemed it a must-see, with descriptions ranging from "exquisite delicacy and stunning precision and control" to "an hour of beauty, politics and down and dirty fun".
The show was "spotted" in Edinburgh by the agent for a mysterious businessman in the Seychelles, and an invitation followed. The troupe of five - plus O'Reilly and the three suitcases that carry the show's small but significant props - were flown from Auckland early this month to an exclusive island resort for a single performance for about 40 houseguests in the businessman's neighbouring private compound.
A YouTube clip of one of the vignettes, featuring four smooth-skinned, peachy-bottomed, horse-tailed and sexily harnessed little showponies taking their turn in a real stable, went viral before it was removed. The clip now resides at Vimeo.com/74344759.
Further information, including public classes and the possibility of franchises for dance studios in Mojocabaret, can be found at Flagrantproductions.com


Performance
What: In Flagrante
Where and when: Galatos Ballroom, December 6 at 7pm and 9.30pm; Dunedin Fringe Festival, March 15-22; Forum North, Whangarei, March 29