Hey kids, get ready to shout 'Look behind you!' when the Christmas panto season starts, says Dionne Christian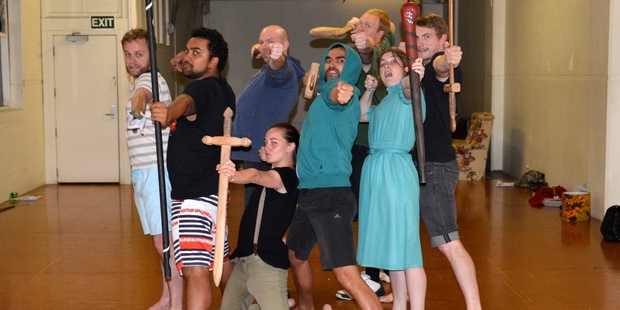 After a year-long absence, Outfit Theatre returns for Christmas to stage the family adventure show Robin Hood.
Starring Jordan Mooney as Robin, the show is directed by Outfit regular Chris Tempest, these days best known as Dr Josh Gallagher on TV's Shortland Street. Tempest, who grew up in England and fondly remembers his homeland's Christmas pantomime traditions, says he feels as if he is back in his element.
"I feel like I'm coming home because I love theatre. I've learned a lot from Shortland Street, particularly about the importance of being disciplined and organised. My skills have developed to the point where it doesn't take me a week to get my head around something but just a day or two."
Sticking with company tradition, Robin Hood has a script written by Colin Garlick, Andrew Ford, Jatinder Singh and Tempest who have "re-imagined" the traditional tale. The production relies on input from Outfit actors and features strong, physical theatre, singing and dancing.
Because the company likes ensemble casts, the production features 10 actors.
Producer Emma Barton says the style is similar to its popular children's shows Treasure Island, King Arthur and Alice in Wonderland with fights, chases and humorous sequences that should appeal to those aged 6 and above.
Other companies are sticking with the tried and true.
Tim Bray Productions stages The Santa Claus Show for the 12th time with Tim Raby, who has played the man in red for nine of the 12 productions, reprising the role. Santa Elves are played by youngsters from the company's Youth Theatre.
The story remains the same - a young girl learns the true meaning of Christmas when she goes to Santa's North Pole workshop and realises not everyone is as fortunate as she is - but new cast members and technical innovations mean every season of The Santa Claus Show is slightly different.
At The Basement, Charles Dickens' A Christmas Carol has been repackaged to "deliver a punch in the chestnuts". It's written by Nic Sampson and Barnaby Fredric, who wrote last year's Mega Christmas (in which Kim Dotcom made a guest appearance), and stars Gareth Williams as Scrooge.
The ghosts of Christmas Past, Present and Future try to change Scrooge's mind that Christmas should be cold, dark and spent indoors. A revolving cast play ghosts and other supporting characters. Labour MP Jacinda Ardern puts in a special guest appearance as Helen Clark. Sophie Roberts has the job of bringing it all together and 2013 Billy T Comedy Award nominee Joseph Moore has written the music.
At neighbouring Aotea Square, The Edge unwraps Christmas with live theatre, music and dance performances. The theatre shows, grouped under the title Concrete Theatre, include circus performance Campground Chaos, Strike Percussion, Northland Youth Theatre's retelling of Homer's Odyssey, the comedy Double Derelicts, and a devised work by the National Youth Theatre Company.
Festival producer Sally Barnett says Unwrapping Christmas' first season encouraged community spirit and was so enthusiastically received, they had to bring it back.
Performance guide
What: Robin HoodWhere and when: Tapac, December 4-14
What: The Santa Claus Show
Where and when: The Pumphouse, Takapuna, December 9-21
What: A Basement Christmas Carol
Where and when: The Basement, December 4-21
What: Unwrapping Christmas
Where and when: Aotea Square, December 9-21