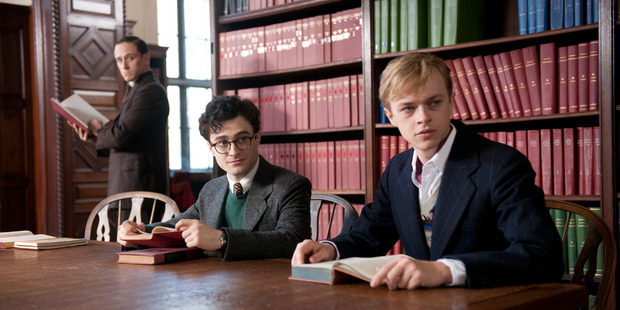 Daniel Radcliffe continues to shake off Harry Potter, stepping out as Allen Ginsberg in a drama that is as much a murder mystery as a portrait of the influential poet's younger years.
There's been a run of Beat Generation films recently, with Howl, On the Road and Big Sur, although they have all taken quite different approaches. Kill Your Darlings centres on Ginsberg's formative years at Columbia University, where intense friendships were formed and obsession and jealousy led to a murder investigation.
It was at Columbia where Ginsberg began to discover who he was, sexually and as a writer. Taken under the wing of charismatic classmate Lucien Carr (De Haan), Ginsberg is introduced to fellow writers William S. Burroughs (Ben Foster) and Jack Kerouac (Jack Huston), and an underground alternative world that challenges conformity.
He also meets David Kammerer (Hall), an ex-professor who competes with Ginsberg for Carr's attention and affection. When Kammerer dies under mysterious circumstances, Kerouac, Burroughs and Carr are arrested as potential suspects.
The film is centred on the circumstances of Kammerer's death, but it's really just a device for Krokidas to question the purpose and worth of this group of young men determined to rejuvenate American literature.
Krokidas' debut feature captures this exhilarating period with a dark, slightly seedy world that is filled with possibilities and allows the young intellectuals to pose and strut. The sense of competition among the writers, some better presented than others, and the pressure to write their first piece of meaningful literature is intense, as is the final unravelling of what happened to Kammerer. Radcliffe does a brave and admirable job as Ginsberg, tackling whatever is thrown his way, including a gay sex scene in a brightly lit room.
The sensual chemistry between Radcliffe and Dane DeHaan is fantastic, just occasionally upstaged by Ben Foster, who does a great job capturing the voice and mannerisms of the dry Burroughs. Foster's performance is spot on and adds some much-needed humour.
There are pacing issues and the script could have been tighter, but overall Krokidas captures the period and the exuberance of youth well, and thanks to solid performances, presents us with a fascinating coming of age story.
Stars:
3.5/5
Cast:
Daniel Radcliffe, Dane DeHaan, Michael C. Hall
Director:
John Krokidas
Running Time:
104 mins
Rating:
R16 (sex scenes, violence, drug use and offensive language)
Verdict:
Smart, stylish and dark biopic of Allen Ginsberg's early years.
Follow @nzherald_ent on Twitter for all the latest entertainment news.
- TimeOut