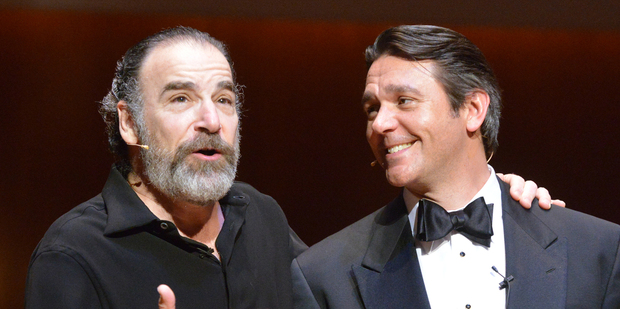 Some in the very respectably filled Aotea Centre would have known Mandy Patinkin as Homeland's Saul Berenson or Jason Gideon in Criminal Minds; tonight he revealed why he is in the inner circle of Sondheim singers.
Nathan Gunn, a baritone in full bloom, elegantly besuited alongside the more casually dressed Patinkin, inevitably played straight man.
Together with duo pianists Julie Jordan Gunn and Paul Ford, they kept us rapt for almost two hours.
Gunn showed style in his big ballads, playing both Arthur and Lancelot (a droll "C'est moi") from Camelot as well as replacing gravel with honey for Tom Waits' Innocent When You Dream.
Patinkin set a prankish tone from the start with Singing in the Bathtub and showed the savviest of shtick in extracting every sentimental goosebump out of Harry Chapin's Cat's in the Cradle.
This man did not hold back, theatrically flaunting his weathered voice when the climaxes in Bohemian Rhapsody almost got the better of him.
The duo even created a uniquely Kiwi moment - a one-time member of the McGillicuddy Serious Party was invited on stage to accept four signed toothbrushes for his celebrated collection.
Musical collaborations had been cleverly set up, even if Patinkin's Gettysburg oration against a Civil War song from Gunn seemed a little over contrived.
Elsewhere, Patinkin was often the curmudgeonly interventionist, competing with Gunn's uber-lyrical White Christmas by singing it in Yiddish at twice the speed and somehow making it fit.
The highlight, from Sondheim's Assassins, had Gunn's Balladeer presenting Patinkin's bitter and disillusioned John Wilkes Booth; within minutes they were ensconced on the rap train from Meredith Willson's 1957 The Music Man.
Gunn had the opportunity to cement his concert hall reputation with Charles Ives' Circus Band, while his partner creating amusing but complementary distractions, starting with crashing cymbals.
The banter flowed just as the accompaniments moved effortlessly from one Steinway to the other, with the two men saving their best for last.
Leroy Anderson's Holiday for Strings was perfect for pitching Gunn's sonorous baritone against the manic patter for which Patinkin is renowned. Sock puppet shenanigans were a Muppety bonus.
An Evening with Mandy Patinkin and Nathan Gunn
Where: Aotea Centre
When: Sunday, November 24