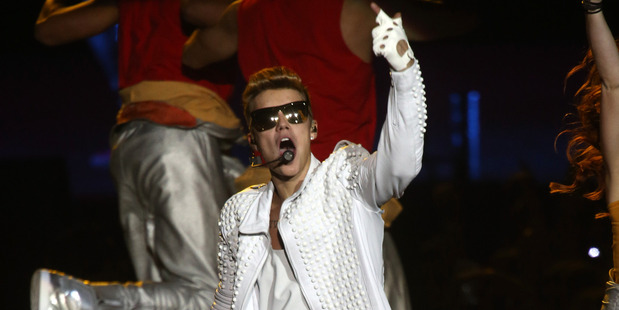 Wayward pop star Justin Bieber managed to misbehave yesterday even though he had brought his mother along for his whirlwind New Zealand tour.
The 19-year-old singer flew in by private jet mid-morning ahead of his gig at the Vector Arena last night.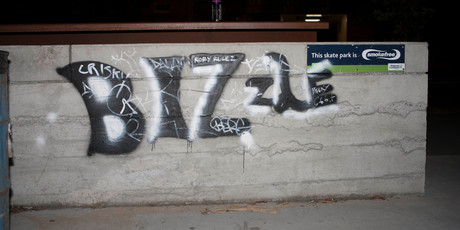 Killing time in town before the concert, Bieber went to Victoria Skatepark where he showed off his skills on the halfpipe.
"Skaters be like 'you can't skate'," he posted later on Twitter.
But fellow skaters claimed Bieber painted graffiti at the park - apparently tagging the word "Bizzle".
Auckland man Jimmy Brockie posted photos to convince disbelieving fans that he had skated with Bieber.
"No s***, we skated with him, he was there for ages," said Brockie.
Continuing his bad-boy antics, Bieber kept 8,000 fans at Vector waiting for more than an hour last night, something that is becoming a trademark.
He eventually took to the stage after 9.30pm.
Several fans walked out in disgust, amid claims he had lip-synced the entire show.
Lynne Davis paid $360 for two premium tickets for her and her son 9-year-old son Cameron.
She was among dozens who stormed out before the end. "It was shocking," she said. "He lip-synced the whole thing. He never once mentioned Auckland."
She said her son declared that he was deleting all Bieber songs off his iPod and was giving his newly purchased Bieber T-shirt to his father to burn after the concert.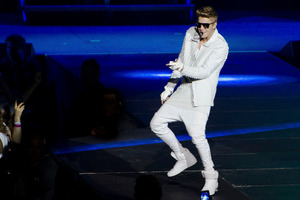 Unlike past visits, there was no frenzy of fans at the airport to meet him when he arrived.
A few diehard "Beliebers" had gathered at the Langham hotel, where Bieber's guitarist was spotted, while others headed to the Hilton on Princes Wharf, after other members of his entourage were seen there.
A couple of fans managed to get a picture taken with Bieber as he drove into the SkyCity Grand hotel.
About 200 fans with VIP tickets queued outside the Vector Arena yesterday afternoon for an early evening meet-and-greet session with their hero, slotted to start two hours before he went on stage.

Concert tickets worth between $100 and $150 each were being on-sold for much less yesterday. One buyer picked up two tickets on Trade Me for $130.
The Baby singer had planned a second Auckland concert tonight, but it was cancelled last month due to "unforeseen circumstances".
Fans outside the Langham weren't fazed by the lack of interest, insisting they would "always support him, no matter what".
Bella Cassin, who had been there since 6.50am, said she was excited to be going to last night's gig. "It's going to be the best night of my life."
Annette Kirk and Sarah Wadsworth travelled from Levin for the show, and were waiting outside the hotel with "Justin Bieber" painted on to their arms and legs.
On his first trip to New Zealand in 2010, Auckland Airport had to beef up security to cope with hordes of screaming girls.
Bieber still a star
If Justin Bieber's reign as a pop king is over, no one has told his fans at the Vector Arena.
Sure, there were a few banks of empty seats peppered around the hall.
But on this showing, some critics who have dumped him out on the street like a bag of yesterday's trash might be a bit premature.
Bieber appeared on stage to an ear-splitting reception from screaming girl fans.
Decked out in a dazzling white suit and cool shades, the noise reached fever pitch when he launched straight into his hit song All Around the World.
And he almost raised the roof while strolling down a walkway into the middle of the crowd.
Backed by a nine piece band and a dozen dancers, Bieber sent fans wild with his crotch grabbing routines.
He rattled through hits such as Eenie Meenie, Boyfriend, One Less Lonely Girl and Baby.
Bieber's vocals on ballads like Love Me Like You Do were at times overshadowed by some corny props and routines.
But as he tore off his jacket to reveal a sleeveless vest, his adoring followers couldn't have cared less.
On the slide or not, he was still No. 1 with his fans in Auckland last night. You'd better Beliebe it.