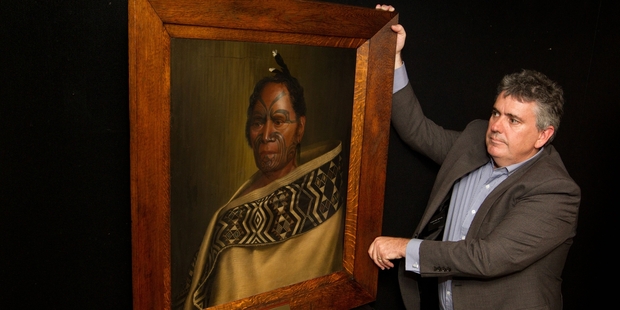 A Goldie painting never before sold at auction fetched nearly $733,000 at the Auckland International Art Centre's Important, Early and Rare auction last night.
Director Richard Thomson said Charles Frederick Goldie's Kawhena, painted in 1892, was the artist's first portrait of a Maori kaumatua.
Goldie, who died in 1947, is one of New Zealand's most recognised and sought-after artists.
Kawhena, also known as Johnny Coffin, was a "national treasure" and was considered one of Goldie's finest works of art, Mr Thomson said.
"People never tire of Goldie."
The final price of $732,800, paid by a private buyer, made it the most expensive painting sold at a New Zealand auction. The previous record was held by Colin McCahon's Let be, let be, which sold for $704,000 in 1995.
A 1911 Goldie painting, Te Aitu Te Irikau, failed to sell and was under negotiation last night. Mr Thomson said there was interest, and a price of about $160,000 was possible.
Te Aitu Te Irikau was the first of several Goldie painted of the Arawa chieftainess. It was in an original Goldie frame and has been in a private collection in Hawkes Bay since the 1930s.
"The two Goldies are exceptional examples of Goldie's ability to show the detail of Maori culture in the moko and weaving," he said. "He also captures the soul of his subjects.
"The mood he portrays in the eyes of Kawhena is quite compelling and with Te Aitu Te Irikau, it is very easy to imagine her as a woman of great reverence and mana but also as a person with a very close understanding and affinity with her people."
The previous auction record for a Goldie painting was Forty Winks, which opera singer Dame Kiri Te Kanawa sold in 2010 for $573,000.
The Goldies were auctioned alongside a rare collection of samples from the long-lost Pink and White Terraces. But the 35 pieces of fossilised flora and silica sinter attracted only one bid and were passed in at $10,000. The seller wanted about $15,000.
They came from the private collection of James Stewart, a civil engineer who was thought to have collected the samples shortly before they were destroyed.
The terraces, described as the "eighth wonder of the world", were on the edge of Lake Rotomahana near Rotorua. They disappeared in 1886 when Mt Tarawera erupted, killing 120 people, burying a village and causing widespread damage.
- additional reporting Ben Irwin
- APNZ