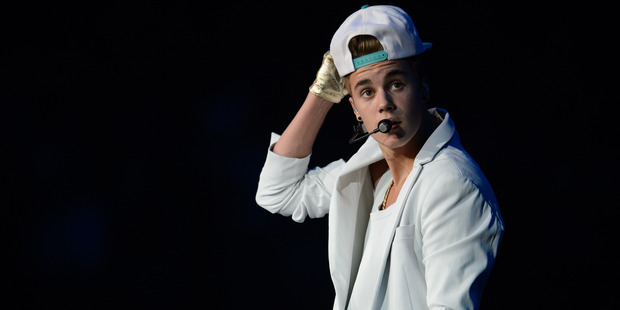 Justin Bieber became the first Belieber when he was born on March 1, 1994 in London. No not that London, the one in Ontario. Yes, the poor fellow is Canadian. This embarrassment hasn't held him back. After learning piano, drums, guitar, trumpet and hairstyling by age 12, he was discovered by an American talent scout, who became the second Belieber after seeing YouTube clips of a teeny-tiny Bieber singing and looking cute.
In the five years since, young Justin has had many hits, a number of tattoos, three different haircuts and - excitingly for non-Beliebers - many controversies, beginning in March 2011 when he made an "obscene gesture" at photographer outside his 17th birthday party.
This was the first of many gestures. In July 2012 he was pulled over for speeding. In January this year a photo of him allegedly smoking dope was published, while in March, after allegedly threatening to kill one of his LA neighbours, he flew to Germany with a pet monkey which, because he had no papers for it, was confiscated by Customs. German officials later accused him of abandoning the monkey.
The same month Bieber had to be stopped by a bodyguard from attacking a photographer. The same week he was two hours late for his own show at London's O2 Arena. He was later photographed wearing, for reasons still mysterious, a gas mask.
The following month he visited Anne Frank House in Amsterdam and said he hoped Frank, who died in a concentration camp at 15, "would have been a Belieber". In July footage of him peeing in a bucket and dissing Bill Clinton was leaked.
This month, during a South American tour, he walked off stage in Sao Paulo in Brazil after being hit by a water bottle, was later accused of graffiti-ing a wall and allegedly disrespected the Argentinian flag.
Welcome to Auckland, Justin!