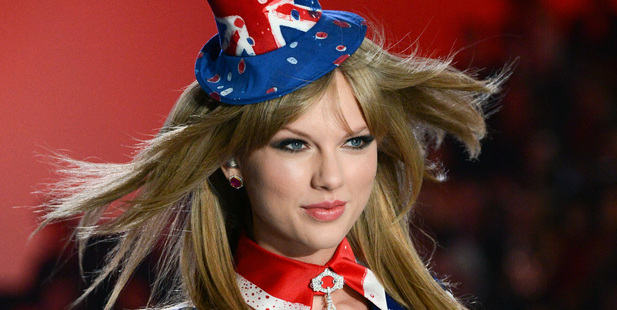 New York Magazine has declared her the 'biggest pop star in the world.'
But Taylor Swift has revealed that 'things are not okay all the time,' in an interview in their November issue.
Opening up about the emotional lyrics that have made her songs so popular, the 23-year-old declared: "Allowing yourself to feel raw, real emotions in public is something I am never going to be afraid to do."
"Hopefully that's the case, if I can remain a real human," she told New York Magazine. "I'm fine with being honest with my fans about the fact that it's okay that everything isn't okay all the time."
"I love my life, I love my career, I love my friends - but things are not okay all the time. So I don't sing about things being okay all the time."
Swift has admitted that men are 'inspiration on a plate' and many of her songs are reportedly about famous ex-boyfriends.
The album Red, which includes the hit We Are Never Ever Getting Back Together, is widely rumoured to be about ex-beau Jake Gyllenhaal.
"I heard from the guy that most of Red is about," she said. "He was like, 'I just listened to the album, and that was a really bittersweet experience for me. It was like going through a photo album.' That was nice. Nicer than, like, the ranting, crazy e-mails I got from this one dude."
Her huge blue eyes staring out from the magazine cover from beneath her blonde fringe, Taylor seems to be the kind of girl any boy would give his right arm to date.
However, the country star revealed she hasn't always been so popular.
"Daydreaming was kind of my No. 1 thing when I was little, because I didn't have much of a social life going on," she admitted. "I didn't always have 14,000 people wanting to hang out with me on a Saturday night."
"I always used to daydream about what it would be like to stand on a really big stage and sing songs for a lot of people."
Luckily for Taylor, she began her musical journey in a genre that welcomed her with open arms.
"Country radio is much more like a family than any other group of people that I've met," she said. "They just say, 'Look, we've known each other for years. You've stood by us, and we've stood by you. That's how this works.'"
Although she's young and riding high at the top of the charts, it seems clear that Taylor has given though to the future.
"When I'm 40 and nobody wants to see me in a sparkly dress anymore, I'll be, like: 'Cool, I'll just go in the studio and write songs for kids.' It's looking like a good pension plan."
- DAILY MAIL