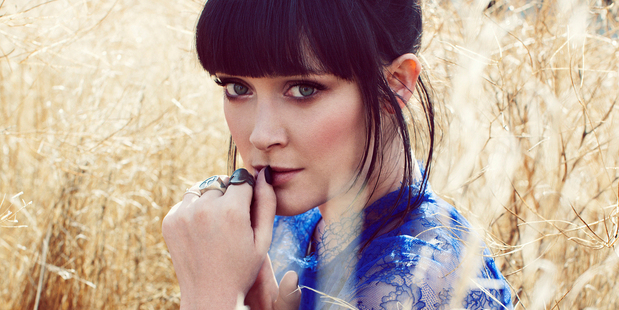 Fresh from touring the US, Ginny Blackmore took to the stage for her first headlining concert in New Zealand. Now based in LA, after getting signed to L.A. Reid's Epic Records, it felt like a long awaited homecoming for the Auckland-bred singer.
Known best for her single Bones, which went to number one in the New Zealand charts, Ginny started her musical career in London, writing songs for the likes of Christina Aguilera and Adam Lambert. She has since focused her energy on creating a repertoire of her own songs, transitioning from a song-writer into a songstress.
There is no doubt that Ginny Blackmore has something special.
Beaming, Ginny busted out R&B influenced pop songs Over the Moon and Hello World, showing off her rich, soaring vocals. Dancing from soft and sweet verses into a dynamic chorus', Ginny captivated the crowd effortlessly. Especially while performing her emotional song, Sing For Me, which was written for Aguilera.
However, near the end of Sing For Me there was an uncomfortable tension. The song had built up, the audience was waiting and yet for some reason Ginny pulled back from belting out the last big chorus that closes off the song ... "Even Christina Aguilera couldn't do it" she joked. Eventually she did sing the part and although the audience seemed to appreciate her raw vulnerability, the moment had been lost. The ballad could have had so much more power had she just gone for it.
Luckily, Ginny was able to bring it back with a beautifully chilling cover of Rihanna's Stay and an even more impressive version of Untitled (How Does It Feel) by D'Angelo. Ginny and her backup singers blew everyone away with their amazing four part harmonies and vocal runs.
A true kiwi girl at heart, Ginny was full of self-deprecating humour and endearing charm, able to get the crowd grooving to her cheeky song Faithful, then sending shivers up their spines during gospel-esque Wow.
Ending the night with her hit Bones, Ginny proved that she has the skills and talent to become a huge success, not only in New Zealand, but across the globe. Poetic songs teamed with a magnificent voice, she is bound to make her mark on the music world.
Who: Ginny Blackmore
Where: Galatos, Auckland
When: November 15
- nzherald.co.nz