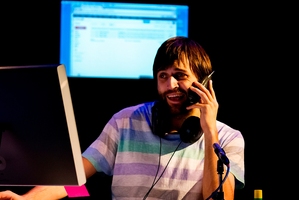 The rise of digital media presents a challenge to live drama that has been met by a number of recent shows which make digital technology an essential part of the theatre experience.
Live at Six is a finely crafted satire on the rapidly evolving relationship between social media and news services.
Audience members are encouraged to send in tweets and video clips of a celebrity meltdown that occurs in the foyer just before the shows starts. As the story unfolds, this material is processed in the newsrooms of rival TV channels and fed back to us on giant projection screens.
The show is at the cutting edge in its engagement with digital technology but it also demonstrates a firm grasp of the timeless fundamentals of story-telling as it plunges us into the pressure cooker world of TV news.
The well-drawn characters are skilfully brought to life by the talented ensemble who find plenty of humour and some moving human drama among the backstabbing and double-dealing of the media circus.
The show enters into the heart of the digital beast through the engine room perspective of digital story-editors. Barnaby Fredric captures the seen-it-all cynicism of a technician who spends his days manipulating fragments of video, while Eli Kent delivers a hilarious performance in which confident prowess in the digital realm is undercut by painfully awkward inadequacy when it comes to social interaction.
Some very sharp dialogue provides a provocative commentary on the ubiquitous stream of online babble that obliterates all boundaries between public and private and allows us to feel intimately connected with people we have never met.
At times the pace seems a bit slow and the storyline struggles to resolve all the elements of a script brimming with dramatic potential but Live At Six delivers a contemporary blast of intelligent and entertaining satire.
Lowdown
What: Live at Six
Where and when: Aotea Centre, Lower NZI Room, until Saturday