Salt-n-Pepa are bringing their booty-shaking, babymaking bump 'n' grind hits to New Zealand. They talk to Chris Schulz.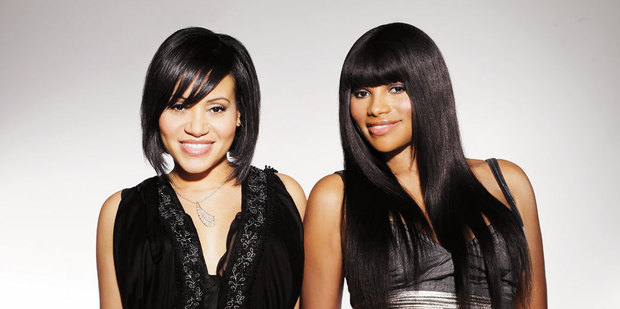 Bubbly, chatty, and super exuberant. As part of beloved boundary-breaking all-girl group Salt-n-Pepa, Sandra "Pepa" Denton is everything you'd expect her to be.
Just don't bring up the fact that their upcoming Auckland show is billed as a seated event.
"No way - are you serious?" she asks TimeOut from her New York home. "You better believe we're going make them get up ... They'd better," she warns, sounding stern before breaking into laughter.
As you'd expect, Denton is promising plenty of energy when she performs alongside her bandmate Cheryl "Salt" James at Auckland's ASB Theatre tomorrow night, Salt-n-Pepa's first show here in 19 years.
Thanks to household hits like Shoop, Push It and Let's Talk About Sex, the then trio (Deidra Roper "DJ Spinderella" was the third member) spent much of the late 80s and 90s making hip-hop fans dance their asses off.
It helped that their videos - especially the bump 'n' grind of Whatta Man, a collaboration with like-minded girl group En Vogue - featured scantily clad women writhing around topless men and provocative dance moves that pre-dated the antics of Britney Spears, Christina Aguilera and Miley Cyrus.
Denton, who has two children, including a 15-year-old daughter, admits that what Salt-n-Pepa got up to in their videos then has nothing on today's pop stars. "Our videos are like a walk in the park considering what's going on now. Some of our moves were a little racy - but my kids don't even think that was bad considering what's on the radio."
She points to Cyrus and her controversial twerking at the MTV Awards as the most outrageous example.
"Miley is making her mark, huh? There's this one video Miley did ... I was like, 'You know, I can't listen to this, it's not Hannah Montana'. I was so shocked - all these young girls probably look up to her."
It's a surprising statement coming from one of the voices behind Let's Talk About Sex, an eyebrow-raising hit that caused a firestorm when it was released in 1991.
Denton admits the "cute little song" got the girls in the group plenty of attention - but not deliberately so.
"The message was positive, but the hook, when you heard females talk about sex, it was like, 'Huh?' It caught the attention but the lyrics weren't as bad as the title of the song.
"People raised some eyebrows. People were really talking about it, and we were like, 'You gotta listen to the lyrics, listen to the whole song."'
You could credit Salt-n-Pepa for helping a multitude of female hip-hop stars rise to the top through the late 90s. But Denton says aside from Nicki Minaj, they seemed to dry up during the 2000s and now there's "nothing".
"All my life I've been baffled. There was a time when you had your Missy Elliotts, your Lil' Kims, your Eves - there was a good amount of us out there. Now there's nothing. I know there's room, I know there are talented females out there."
Denton says she's "in awe" of the fact that Salt-n-Pepa's songs have stood the test of time.
"Our songs are always in commercials, in movies, on the radio. People are always texting me, 'You know your song is on the TV' ... I feel blessed to have made timeless music."
And since their reunion in 2007 after disbanding in 1999, they seem to have undergone a revival - getting so many tour offers they're having to turn them down.
"Our songs are keeping us very busy right now. We tour a lot, we do shows every month. We actually turn down shows [but] we're mums, we try not to stay on the road."
She promises tomorrow night's Auckland show will be "one big block party".
"People always say, why haven't we gone to New Zealand? I'm looking forward to it, it's exciting. We're bringing a lot of fun. The good thing about it is that Salt and I truly still enjoy performing - we love it, you'll sense that on stage. We take pride in our show. Every time before we go on stage, no matter what, we always say, 'Have fun'. We believe we have a great show."
Just make sure Pepa doesn't see you sitting down during it.
What: Hip-hop group Salt-n-Pepa
Where and When: ASB Theatre, Aotea Centre, Auckland, November 15
Support acts: Times x Two and L.O.V.E.
Essential listening: The 1993 album Very Necessary, featuring hits Shoop and Whatta Man
Follow @nzherald_ent on Twitter for all the latest entertainment news.
- TimeOut