To slap a warning sticker on the whole thing because of one utterance that has been uttered in the song since 1987 without ripping a hole in the fabric of society seems a bit excessive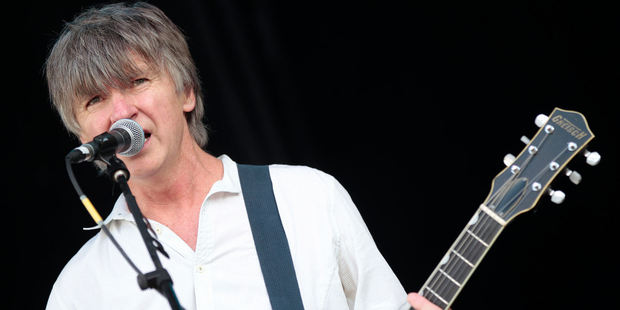 New Zealand singer/songwriter, Neil Finn. Photo / Richard Robinson
This year the patron saint of New Zealand singer-songwriters, Neil Finn, got together with the patron saint of Australian singer-songwriters Paul Kelly, for a bit of an Australian tour, playing each other's songs. This week the pain and suffering that they didn't include Aotearoa on their itinerary has been partially alleviated by the release of a live recording from that tour, called Goin' Your Way, and a jolly nice recording it is, too.
But the most intriguing thing about this recording, to me at least, is that if you're old school and buy it in its CD format, it comes with a sticker on the case that states boldly: WARNING MODERATE impact coarse language and/or themes.
The most obvious thing about this is, of course, just why the #<\@>*! do you need to be warned about anything that is "moderate"? Does Civil Defence issue a warning every time there are moderate winds? No, they do not.
Do lifeguards herd everyone out of the water at the beach when the waves reach moderate? No, they do not.
I have always assumed that "moderate" was one of those in-the-middle words that was neither good nor bad and therefore didn't really qualify as a cautionary adjective. "Look out, it's a moderate sharknado!" This is something no one has ever yelled. Heck, use the word moderate in its verb and noun forms and it's practically a compliment, not something that is going to corrupt future generations.
Yet, somehow, apparently, Messrs Finn and Kelly are moderately dangerous chaps who should be approached with an appropriately judicious amount of caution. Why? True, there is one incidence of "coarse language" in the song To Her Door but to slap a warning sticker on the whole thing because of one utterance that has been uttered in the song since 1987 without ripping a hole in the fabric of society seems a bit excessive.
So clearly, it is the "themes" component of the warning that has led the two troubadours to incur the wrath of the musical censorial overlords. Because, as we all know, themes are bad things to have and might lead to crazy places, like contemplation and reflection.
Nasty things if they are let loose on unsuspecting minds.
Mind you, when you take a closer look at Goin' Your Way, there's a whole Dante-esque world of themes going on in the songs. Neil's Sinner is about, well, sin, which as thematic as it gets really. There's infidelity (Don't Stand So Close To The Window); lust (Into Temptation); and a thematic mash-up of sex, birth, death and the whole damn life-cycle in five minutes and 21 seconds in Deeper Water).
In fact, if you read deep into the song titles Goin' Your Way is positively fecund with themes. She Will Have Her Way could be about feminist empowerment if you want it to be; Not the Girl You Think You Are might be about identity crisis; Fall At Your Feet might, on some level, deal with household accidents; while You Can Put Your Shoes Under My Bed could conceivably be about someone with a tidiness fixation or possibly about sex again.
I guess, if themes are the problem, the Neil/Paul oeuvre is so damn redolent with heady themes that a more appropriate warning sticker would be: WARNING EXCESSIVE themes and/or stuff that might make you think, set to nice tunes.
At which point in time you have to ask yourself just who is being warned here - and why? These are, let's be honest here, not men in the full flush of youth. In fact, the most honest warning sticker that could appear on Goin' Your Way should read: WARNING contains singers old enough to be Lorde's grandfather.
Therefore, it surely follows that the people who buy and/or listen to the profanities and thematics that infest this CD are not going to be spring chickens themselves. If there is coarse language they will have heard it many many times before; and what are identified as "themes" by the censors are likely to be interpreted more as fond memories of mistakes made along the way. In short, any warning you might give to the Finn/Kelly audience these days is coming way, way too late to be of any use.
On the same day the Goin' You Way CD came out, the new Lady Gaga CD, Artpop, came out. It has Gaga holding her ta-ta's on the cover and songs like Sexxx Dreams (sample lyric: "I touch myself and I think of you") and Do What U Want - a duet with R. Kelly and therefore worthy of a whole other kind of warning.
Artpop also has a warning sticker on the cover: WARNING MODERATE impact coarse language and/or themes.
As long as there's consistency in censorship, right?