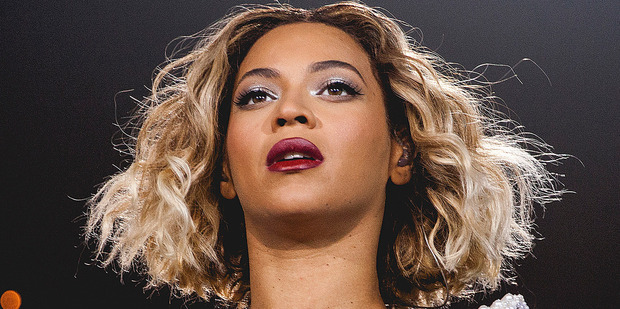 Queen Bey, you're irreplaceable, girl.
During a tour stop in Perth on Friday, Beyonce thrilled a 13-year-old blind fan by dedicating a performance to her.
Per Perth Now, a sequin-suited Bey launched into her 2006 chart-topper Irreplaceable and moved to the side of the stage to introduce Sophie Kotkis, who as well as being legally blind, suffers from hearing and muscle difficulties.
"I have a very special young lady here," said the singer, 32, as she crouched down and extended her microphone to Sophie. "Tell everybody your name, beautiful!"
"Sophie!" she replied, beaming.
"Everybody say, 'Hello, Sophie!'" chimed Beyonce.
The singer, who wrapped up the Australasian leg of her Mrs. Carter Show World Tour on Saturday, then asked the young fan to help sing the track with her.
"Sophie, I think I need you to help me sing this song! You think you can sing, 'To the left?'" asked Beyonce.
Sophie nodded enthusiastically, and sang along to applause from the audience.
The special surprise was made possible thanks to Sophie's older sister, Ellie, who seven months earlier made a video explaining her sibling's story.
"She's never really been able to go to a concert due to logistical reasons so I made a video about Sophie," Ellie told Perth Now.
"Even with everything that she's been through, she's been able to do so much. She raised over $1000 for people with multiple sclerosis at the Runamuck (for the MS Society). I put that all in the video and I just said that I think someone as amazing as Sophie deserves to meet someone as amazing as you (Beyonce)."
A family friend, who works for the children's charity Hope For Children, then forwarded the video to Bey's camp.
"She had no idea that she was going to sing with her," Ellie explained. "Beyonce is her favourite. When Single Ladies came on, she jumped up and was dancing and everyone was watching her dance. She's still on cloud nine today.
"It was so important for me because there's been a lot of things in life that Sophie hasn't been able to do, but she loves music, loves to dance and loves to sing and this was just something for me to show the world how amazing she is," she said, adding, "I've gained so much having her as a sister."
As for Sophie, she said of her special moment: "I told my mum that I got a kiss from Beyoncé."
Beyonce later shared photographs of the moment on her Tumblr page.
* Check out video of the encounter here.
NOTABLE NUGGETS
And finally ...
* Ah yes, remember that yarn about Ryan Reynolds getting puked on by a fellow passenger on a flight last month? It never happened. "I heard about that," Reynolds dishes to Vulture. "That is utterly made-up. I don't know where that stuff comes from. It's fantastic, it sounds like a great story."
* "I think it's a mistake" - Angela Lansbury is not happy with the planned reboot of classic TV series Murder, She Wrote.
* George Clooney's publicist clarifies Leonardo DiCaprio, Russell Crowe disses in Esquire mag. "The Leo comments made by George were all made in fun about basketball. Not about Leo's life," the rep tells Us Weekly. But the silver fox is still packing a sad about Crowe. "As for the Russell Crowe story, George was asked about it and told the truth," his rep adds. Ouch.
* Watch: Sacha Baron Cohen pranks audience by pushing elderly actress in wheelchair off stage at Britannia Awards.
* No ego-searching on Google for Julia Roberts: "I have too much potential for collapse. There's an anonymity that makes people feel safe to participate in hatefulness. I like a good old-fashioned fistfight if people are pissed off at each other."
* It's official: Lady Gaga confirms she will be the first recording artist to sing in Space. No doubt she'll give that gravity-defying 'flying dress' another airing for the shindig.
* Katy Perry sparks engagement rumours (again) by wearing dazzling diamond ring on THAT finger. But cool your jets: Sources say the finger bling is not, in fact, an engagement ring.
* Lady Gaga talks about her ongoing feud with former BFF Perez Hilton; she fears he'll blow up her home, he calls her "delusional". Streuth.
* Robbie Williams opens up about Take That exit, claims it cost him a buck or two.
* Did Tom Cruise really compare acting to serving in Afghanistan? Negative.
* A Princess Bride stage adaptation is coming...
* Richard Dreyfuss talks about living with bipolar disorder.
* First look: Angelina Jolie bewitches in first Maleficent poster.
* Jennifer Lawrence ditches red carpet to comfort a crying fan, is awesome.
* Finally, this exists: The Hunger Games, acted out by cats.
- Rumour Has It