American rapper Oddisee squirrelled himself away in an Auckland studio during a recent visit as part of a mentoring project with Wellington singer Estere Dalton. Chris Schulz paid the pair a visit.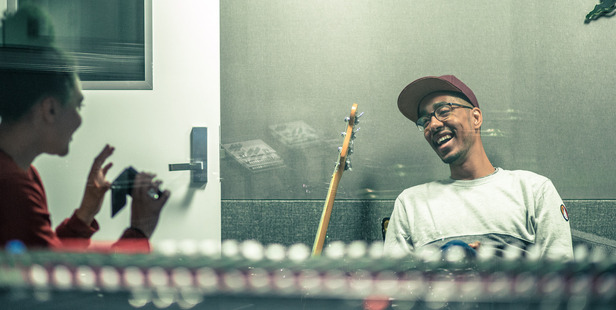 When Oddisee performed a sold out show in Auckland last month, it wasn't the kind of quickfire visit that most rappers prefer when touring New Zealand.
The Washington-born, New York-based hip-hop artist set up shop in a Grey Lynn studio for two weeks to help mentor rising singer Estere Dalton, a Wellington-based member of the funk-soul band Brockaflowersaurus Rex and the Blueberry Biscuits who is prepping the release of her solo debut.
The project, co-ordinated by Red Bull, is the first to be held in the energy drink's brand new Grey Lynn recording studio, and the pair were given just a few weeks' notice to prepare for their collaboration.
Oddisee (real name Amir Mohamed el Khalifa) and Dalton told nzherald.co.nz they were "excited" about the results of their studio time.
"As an artist I've enjoyed a career of knowing what to expect, knowing if I make something people will like it ... there's definitely a comfort from that," Khalifa said, whose last album - 2012's laidback People Hear What They See - received near universal acclaim.
"It's nice to come in here and mix it up a bit. I didn't know how we were going to get along or what the outcome was going to be - and that's exciting."
Dalton: "It's a great experience to be offered, a great learning opportunity and I know a lot of people would kill to be in my position."
Despite not knowing much about each other, Khalifa and Dalton said they "clicked" immediately.
"We're everyday people," said Khalifa, who has remixed Ladi6, performed with @Peace and performed here every year for the past three years. "We definitely have different experiences, but we're the type of people that can talk about everything and we got on instantly as a result of that.
"We're not walking on egg shells around each other."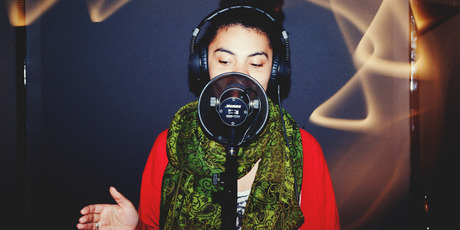 The friendly jibes they gave each other in front of nzherald.co.nz was proof of their connection - especially when Dalton described her sound as "electric-blue witch-hop".
"You're going to have to break that down," Khalifa joked. "What makes it blue? What makes it electric? What makes it witchy?"
"There's little scrapes of metal, door knocking that have been sampled - I suppose that's where the electic comes from," Dalton replied. "Blue because it's quite melodic. Witch, because, I myself search for the magic. And hop, becuase it makes you hop."
"Magical, danceable, eccentric electric ... I can see that," Khalifa replied.
The pair recorded three songs together, and Dalton said Khalifa had helped her push things "to the next level".
"I just do things in my bedroom and coming in here it gets much more polished, and gets parts put in it that makes it really dynamic. It's also the way he works using ProTools and using a computer, you can put in way more stuff. It changes the way that you can produce."
The songs are scheduled for release after Dalton's debut "mini-album" comes out.
Listen to Oddisee's Own Appeal:
Listen to Estere's I Spy:
* Oddisee will be performing as part of the line-up at the Northern Bass New Year's Festival on December 30 and 31 in Mangawhai.

- nzherald.co.nz