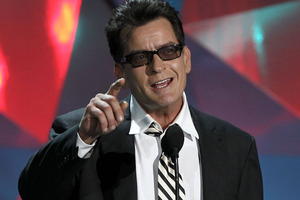 Charlie Sheen's twin sons, Bob and Max, are moving back in with their mother, Brooke Mueller.
The 36-year-old socialite's brother, Scott Mueller, was awarded temporary guardianship of her four-year-old twins in court this morning, days after Denise Richards made the "difficult decision" to give up caring for them because of their "violent behaviour".
Scott Mueller plans to move into Brooke's house to care for them.
The judge decided that the twins could move back in with Brooke under Scott's primary care because he felt it was important for them to stay in the same school, according to gossip website TMZ.com.
Richards secured temporary custody of the boys in May, after Brooke was placed under an involuntary psychiatric hold in hospital, and was originally due to care for them until the end of this year.
But she wrote a letter to the L.A. County Department of Children and Family Services this week to inform them she could no longer care for the boys due to their aggressive behaviour towards her own daughters with Charlie, Sam, nine, and Lola, eight, her adopted little girl, Eloise, two, as well as her dogs.
She also accused Brooke, who has been treated for addiction 21 times, of blocking her from arranging professional counselling for the boys.
Meanwhile, Scott allegedly notified Anger Management star Sheen, 48, that he wants US$55,000 in child support just moments after being made the twins' guardian.
An insider told RadarOnline.com: "Scott has formally notified Charlie Sheen's lawyer he wants $55,000 in child support because he has been appointed Bob and Max's temporary guardian.
"He expects to be paid, immediately, even though Charlie already pays for all of the boys expenses including their pre-school, doctors visits, etc. During the time that Denise Richards was their guardian, she didn't ask Charlie for one dime in child support, she actually turned it down."
- BANG! Showbiz