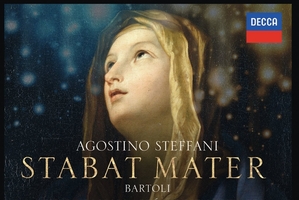 A new recording of the choral music of Agostino Steffani (1654-1728) rather underplays the presence of star mezzo Cecilia Bartoli. She does have one cantata to herself, dispensing the expected fireworks, but is remarkably subdued on the album's title work.
The focus in this collection, presented by the Coro della Radiotelevisione Svizzera and I Barocchisti under Diego Fasolis, is rightly on the man who wrote the music.
Steffani must have been a character. Picked up and plucked out of Venice at just 13, because of his pretty treble voice, Steffani had a charmed career, working mostly in Germany. Steffani was a diplomat and priest and at ease in the opera house; with Handel, he was a composer favoured by the Elector of Hanover. When the German ruler crossed the channel to become George I of England, he took Steffani's music with him. Indeed, numerous pieces on this recording use manuscripts from English libraries. The Stabat Mater, Steffani's final composition, was written for London's Academy of Ancient Music. It is a heartfelt portrait of the mourning mother of Christ, introduced by an emotionally gripping Bartoli against highly charged string playing.
More overt drama comes later when the chorus describes the scourges of the whip or tenors Julian Pregardien and Daniel Behle flare up in Imflammatus et accensus.
Steffani's full instrumental accompaniment, rendered by one of the best Baroque bands around, is an asset when it comes to catching the lash of those whips or the gravitas of the final Amen.
Not all soloists equal Bartoli's stature, or that of transcendental countertenor Franco Fagioli; the undistinguished lower register of bass Salvo Vitale proves a recurring irritation. The rest of the disc features premiere recordings, including a glowing Beatus vir in which a full-voiced choir, with instrumental support to match, recalls the monumental splendour of Gabrieli and the Venetian school.
The final three offerings, including a lovely Laudate Pueri, are vivid and detailed responses to their texts. The singers, solo and in various combinations, lift their voices in sometimes dance-like praise. Sopranos Nuria Rial and Yetzabel Arias Fernandez make an irresistible duo.


Classic CD
Stars: 4/5
CD: STEFFANI Stabat Mater (Decca)
Verdict: Cecilia Bartoli may top the bill, but Agostino Steffani's music comes a stylish first.