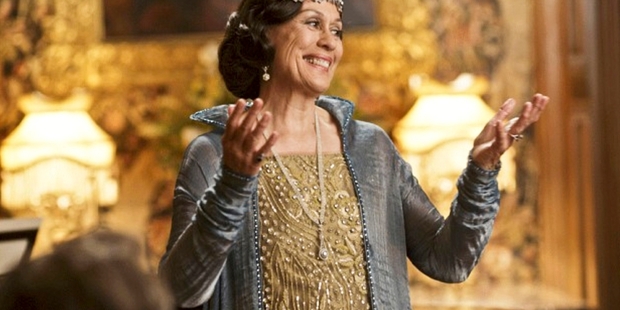 There was a right to-do over this week's Downton Abbey episode when it screened in Britain - and it wasn't over Dame Kiri Te Kanawa's turn as Dame Nellie Melba. This was, depending on your tolerance for dames playing dames, perhaps, either an inspired piece of casting or a load of old twaddle. In other words, you are either a Downton fan or you think it is a load of old twaddle.
It has always been a load of twaddle, but it is now rather older twaddle and the seams of this costume drama are wearing very thin.
So when Anna Bates was raped by a visiting footman - a sumptuous (and sumptuously boring) house party was the excuse for the visit by both the rapist, and the opera singer - its creator and writer, Julian Fellowes, was accused of poor taste for the sake of ratings.
Perhaps Downton fans feel they are above poor taste. In which case what on earth are they doing watching season four of a series in which, in the first, Lady Mary did something unthinkable in her bed - or had something done to her; it was never quite clear - with a Turkish diplomat who dropped dead with shock at the discovery that English aristocratic ladies have pubic hair? I made up that bit about the pubic hair, but it wouldn't have surprised me; nothing much does on Downton Abbey.
Golly, it's boring. It's exactly as one imagines a house party at a real life Downton Abbey, in the olden days, would have been like: endless cups of tea and dinners with dull conversations that go on for hours.
As for the rape of poor Anna - she's married to that misery guts, Bates, which seems punishment enough for any character. The howls included those from viewers who seemed to be doubly outraged because it was Anna who got raped. She's probably the most loved character, after that old bon mot dropping, scene-stealing, Maggie Smith as the Dowager Countess.
As somebody pointed out, Fellowes has "used" other shocking events to fuel his soap, most notably a little thing called World War I. It is a drama; dramatic and nasty things do happen. Even, sometimes, almost believably nasty things, on Downton. Occasionally.
There was a slighter to-do over Dame Kiri's appearance. She wasn't enough like Dame Nellie, apparently, although you'd have to be about as old as the Dowager Countess to know this. She (Nellie, not Maggie Smith who will still be playing the DC when she is 112) died in 1931.
I'm not qualified to say whether Dame Kiri's singing was akin, as the fiendish footman said, to "a grand woman screeching like a cat in a bonfire", but it provided a welcome laugh.
Do you think they might have a part for Tem Morrison on Downton? It's not beyond the realms of possibility. Morrison can't do accents but if Kiri's cat-strangled-and-thrown-on-a-bonfire attempt at an Australian one was anything to go by, neither can she.
He can sing. He's famous. Or he was. Now there is The Life and Times of Temuera Morrison (TV One, Wednesdays, 8pm), in which he is filmed as he tries to resurrect his career. He says he was once on the speed-dial of every Hollywood agent.
It was: 'Get me Temuera Morrison'. Then it was: "I want someone like Temuera Morrison". Now, after a few years, it's "Who the f*** is Temuera Morrison?" says Temuera Morrison, adapting an old Hollywood joke. "This is a story about me."
He plays it for laughs a lot of the time, but this might be his best role yet. There is real vulnerability, and some regret. He puts his young daughter on a plane to go back home to her mum. "Unaccompanied minor. There's a few of us that know about that lifestyle."
He goes back to Hollywood with his beautiful 21-year-old son. Perhaps his son might be discovered and buy his old man a flash car. He falls for a text scam. He might have won a million quid! Or a really big role! Why not? I suppose the spoiler is that we'd have heard if he had, but who cares? I like this show. It's really rather sweet, despite the bravado. A bit like the fella it's about, then.
Follow @nzherald_ent on Twitter for all the latest entertainment news.
- TimeOut