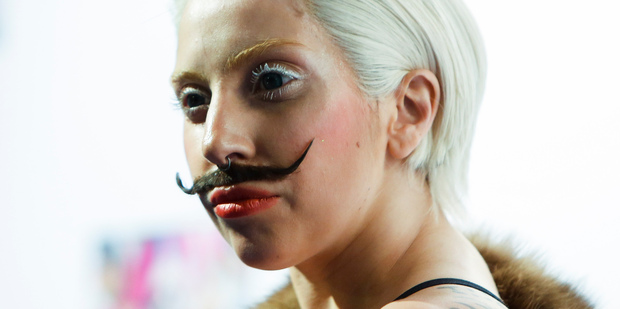 Lady Gaga was pressured to drop a controversial song about Princess Diana from her new album.
The 27-year-old star had wanted Princess Die included on her third studio LP ARTPOP - which is released on Monday but worried record company bosses at her label Streamline and parent firm Interscope urged her to axe the song fearing it may upset fans of the late Diana.
A source told the Daily Mirror newspaper: "Lady Gaga was passionate about Princess Diana and, though she admitted it wasn't her best work, she still wanted it on the album.
"But after the adverse reaction it got from fans in the UK when she sang it at her gigs last year, the record company bosses stepped in.
"They persuaded her to remove it from the album to keep the peace. There still is a lot of emotion over Princess Di. Her death remains a very sensitive subject."
Gaga performed the song, written in 2011, at a concert in Twickenham, London, last year and told a somewhat sceptical crowd that it was her way of paying homage to the beloved royal - the mother of Princes William and Harry who tragically died in a car crash in Paris in 1997.
At the show she said: "Since I was a very young girl, the People's Princess was the most important person in me and my mother's life.
"I predict controversy but I don't care. Let's take a moment to appreciate her presence."
Gaga has tried to make light of the omission, telling fans the song "isn't as good as the other songs" written on her third studio album and that's why it was omitted.
The 27-year-old appeared in a sombre mood as she emerged from her hotel in the Big Apple.The Bad Romance singer, real name Stefani Germanotta, is currently in the middle of a busy promotional drive for her forthcoming LP ARTPOP.
And while the theatrics continue as normal, she is entering a new phase after parting ways with manager Troy Carter.
Having helped shape her career, the 40-year-old mogul is understood to have ended his professional relationship with Gaga over "creative differences".
A source said: "It's sad but it's also liberating at the same time. One door closes and another opens."
The 28-year-old singer is currently preparing for the release of ARTPOP, her third long-player since Carter stepped on-board at the behest of Vincent Herbert, responsible for her A&R at Interscope Records, in 2007.
Her success is owed, in part, to her enormous presence on social networking sites - a clever marketing strategy Carter was instrumental in shaping following her breakthrough with debut album The Fame.
To date Gaga has 60 million Facebook fans while a further 41,410,516 follow her on Twitter, affording her a sizeable platform upon which she relentlessly promotes her music, tours and ideology.
- The Daily Mail