Rapper Big Sean shows his earnest side in a chat with Chris Schulz before his first New Zealand performance.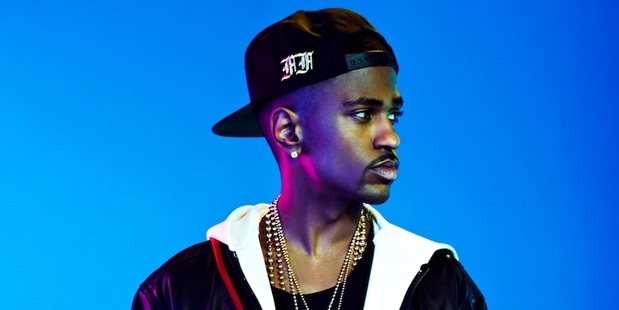 Big Sean wants to get serious. The Santa Monica-based rapper doesn't want to talk about his recent engagement to Glee star Naya Rivera. He's wary about discussing his hit song, Control, one of the biggest and most controversial hip-hop songs of the year.
And he skips past queries about his hilarious opening lyrics on Kanye West's hit Mercy, which includes ridiculous booty-referencing lines such as: "Build a house up on that ass/That's an ass-tate". He says the freestyles were just a joke - but West loved them so much, he made him use them.
What Sean really wants to talk about is Detroit, his recession-struck childhood home city that's struggling under crippling debts, high rates of violence and an unemployment figure running at nearly 19 per cent.
The 25-year-old rapper, set to perform his first New Zealand show at Auckland's Powerstation next week, says violence in the city is so bad, he's moved his family out of town.
"It's a place that's really dark right now. It's super depressed. There are no jobs. People are killing over nothing," he tells TimeOut, referencing the city's homicide rate that's among the highest in the US.
"I was just able to move my family out of there this year. Recently, the neighbours we used to have across the street got murdered. This is where I grew up.
"Detroit used to be the backbone of the whole US economy because of the automotive industry. To see the opposite end of that is crazy."
But Sean (real name, Sean Michael Anderson) is doing his best to "inspire" the city, saying his recent show with Drake and Nicki Minaj in front of 12,000 fans was one of his highlights of 2013.
"Whenever I do events there everyone comes out, no one gets hurt, everyone has a great time. It was a great thing because Detroit is a city that needs inspiration.
"To see somebody from there do it that big - besides Eminem - is definitely monumental, and it shows that being a young black from Detroit, you can make these dreams come true."
That may sound like a super-serious statement from a rising hip-hop talent who raps about "assquakes", but Sean says his second studio album, Hall of Fame - delivered in August with backing from West's GOOD Music label - showed his serious side.
"World Ablaze is about when (my ex-girlfriend's mother) got cancer. It's a devastating thing, but when it happens to someone you're close to it's incredible the types of feelings and emotions that run through you.
"I wanted to give people who were going through that something to really relate to because songs like that you can connect to forever.
"Sometimes club songs are here today, gone tomorrow, and that's it."
One song that seems to have stuck around for Sean is Control, a non-album cut released in August. It sparked a minor frenzy thanks to blazing guest spot from Kendrick Lamar on which he threatens to "murder" a roll call of top-tier rappers.
Sean says he's proud of the song - and he loves the fact that Lamar stole his limelight. "It bought a sense of competition that was missing in the game," he says. "I'm happy to be a part of it - I think it's inspirational for hip-hop. It bought back a feeling that hadn't been there in a while."
He hopes to bring that feeling to his Auckland concert on Tuesday night, which will be free of preachy sermons and heavy on hard-hitting rap.
"I'm looking forward to it. It's going to be intimate (and) I go wild at my shows. I go crazy," he says.
Let's just hope he leaves the ass jokes at home.
What: Big Sean
Who: Up-and-coming Detroit rapper with all-star backing.
Where: The Powerstation, Auckland, November 12
Essential songs: Control (single), Mercy and Clique (from Kanye West's Cruel Summer), Guap and Beware (from new album Hall of Fame).
Follow @nzherald_ent on Twitter for all the latest entertainment news.
- TimeOut