Reviewer Chris Schulz says bottom-of-the-barrel beats mar another rap masterclass from Eminem.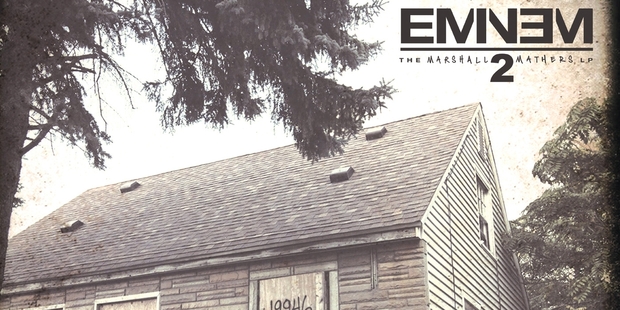 Here's the good news: If you like Eminem when he's angry, this is his most vitriolic album yet. On the sinister cut Bad Guy, the controversial rapper returns to the scene of his 2000 hit Stan, imagining being kidnapped, stuffed into the boot of a car and driven off a bridge by Stan's equally fanatical brother.
Then things get really nasty: Em wakes up in hell, paying for his sins with something "blacker and darker than anything imaginable". It ends with a gunshot.
It's compelling, visceral, hair-raising stuff - and that's just the first seven of nearly 80 gory minutes on Slim's sprawling eighth album that, as that brutal opening blast of vengeance suggests, returns to the shock-rap days of 2000's The Marshall Mathers LP.
The sequel is full of the same kind of potent fury and nothing-to-lose rap rage, and Eminem delivers lines as violently hilarious as anything he's done.
Check out his form on Rap God, a verbal tornado that throws a thesaurus and a dictionary into a blender with headspinning results. "What I gotta do to get it through to you? I'm superhuman," he spits, ramming his point home by cramming as many ideas into six breathtaking minutes as lesser rappers get through in an entire career.
On just that one song, Eminem is so crazily schizophrenic, he's untouchable. But here's the bad news: Like much of Eminem's output since 2002's The Eminem Show, he's let down by shoddy, undercooked beats.
Despite being overseen by beatmasters Dr Dre and Rick Rubin, MMLP2 suffers from laboured production, lacklustre drum loops and unimaginative hooks that hinder any momentum Em builds with his bad-ass flow.
In a year in which rappers such as Kanye West, A$AP Rocky and Danny Brown have been pushing hip-hop production into uncharted waters, Em's album sounds tinny, dated and unfocused.
The lazy piano breaks of So Much Better, Legacy's Stan-aping simplicity and Brainless' skittery breaks are so lacking in bottom end, it's the aural equivalent of stuffing a Mini's engine into a Maserati.
It's a crying shame, because aside from the odd lame 90s pop-culture reference and ill-advised homophobic slur, Eminem has so much to say.
"I done did enough codeine to knock Future into tomorrow," he rhymes on the Beastie Boys-aping throwback Berserk. "An asshole, that role I think I succeed in fulfilling," he says on the brutally self-aware Asshole. And on Headlights he finally apologises to his mum for writing Cleaning Out my Closet about her.
"That song I no longer play at shows and I cringe every time it's on the radio," he says mournfully.
He's mending bridges, but on So Far he burns a whole lot more, slamming autograph-hunters, kids with cellphones and the occasional A-list celebrity.
Whether he's Slim Shady, Marshall Mathers or just plain old Eminem, it seems he's as conflicted and confused as always.
Stars: 3/5
Verdict: Bottom-of-the-barrel beats mar rap masterclass.
Click here to buy The Marshall Mathers LP 2.
Follow @nzherald_ent on Twitter for all the latest entertainment news.
- TimeOut