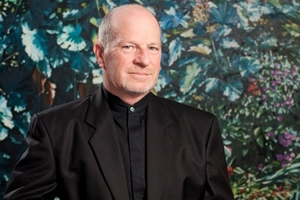 As Michael Houstoun nears the end of his heroic Beethoven reCYCLE series revisiting the 32 Piano Sonatas, I am reminded of a comment that the pianist made back in 1989.
Discussing Beethoven, he singled out the essential feature of the music as its organic development, from Opus 1 to Opus 135.
This was particularly evident this weekend.
Two recitals, centred around the popular Pathetique and Moonlight Sonatas, revealed a composer ceaselessly exploring the possibilities of his art.
When Houstoun plays early Beethoven, he places it beautifully in context. The A major Sonata of Op 2 no 2 opens with the wit of Mozartian opera buffa, interrupted by dramatic asides from 18th-century storm and stress.
Beethoven's originality is revealed in his slow movements. Opus 7's Largo con gran espressione sees Houstoun as musical sculptor, proving that silences are just as potent as sound.
Even though the pianist draws magnificence from his Steinway, you sense the frustrations of a composer looking beyond the sonic strictures of his time.
Both the Pathetique and Moonlight Sonatas are palpable favourites, each with its share of tumultuous excitement.
Yet their slow movements stand out in their clarity; while the first engages with the fires of passion, the second is the most serene of nocturnes.
With other middle-period works, Houstoun celebrates the direct, almost Schubertian tunefulness of Opus 28's Andante and enjoys the carefully measured humour that permeates Opus 31 no 3.
Both evenings end with late Beethoven.
Emotions shift and change in Friday's E major Sonata, Opus 109, climaxing in the jagged snarl of its Prestissimo.
Houstoun transports the closing variations, beginning and ending with chorale-like simplicity, to a peak of trilling radiance.
On Saturday we have the penultimate Sonata, Op 110 in A flat major.
This is a familiar interpretation from previous Houstoun performances, although subtle changes can be heard.
There seems to be more urgency in the piece's opening pages while the pianist is more able than ever before to catch Beethoven's eternal struggle between head and heart in the perfectly gauged alternation of fugue and mournful song.