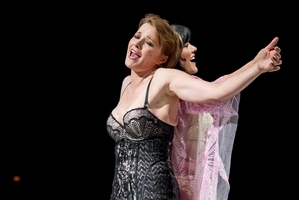 With this fabulous, fast-tempoed spectacle of sizzle and sass, Michael Hurst once again proves himself an exceptional director of musical theatre, an auteur of clever, sexy noir with strong conceptual vision and stylistic flourish.
Chicago's cynical 1975 spin on spin - 1920s flappers who murder their way into the limelight - anticipates our own age of eager instant internet infamy. Hurst ups the ante in this Auckland Theatre Company show: reporters are not lawyer Billy Flynn's puppets but blow-up sex dolls. One corpse hangs by the neck, another swings over the audience by the feet. In the razzle-dazzle circus court, a near-naked woman (Hannah Tasker-Poland) holds a naked flame while Wonder Woman (Rebekkah Schoonbeek) rollerblades by, upholding the word "Truth".
One of Hurst's successful signature creative strategies is to treat the ensemble as individuals; no automaton choruses here. Our MC (Sandra Rasmussen) is an old tap-dancing broad. One of the female prisoners in the stupendous Cell Block Tango is played by an androgynous man (Will Barling).
Amanda Billing puts chutzpah and strong voice into Roxie, although she's oddly dressed in sequined granny knickers. Lucy Lawless brings comedy to Velma; Colleen Davis' voice soars as she plays with her baton as Mama. The reliably wonderful Andrew Grainger laces the bathos of anti-celebrity Amos with anger, and sings magnificently.
But Shane Cortese has the most fun as Billy the Fibber. The lawyer and his shapely pins are introduced in a leopard print shortie dressing gown, accompanied by a male lackey wearing leather bunny ears, taped nipples, g-string and platforms.
The band, led by musical director John Gibson, is seamless and jazz-gritty. The dramatic blackouts in Sean Lynch's dark lighting are matched by sudden freezes in Shona McCullough's choreography on John Harding's bare polished gun-metal stage in the round.
It's not perfect - Velma's cowboys-and-indians number hasn't yet hit the right tone. And don't expect the stage plot to tie up as neatly as the 2002 movie. But Chicago is an intoxicating, heady cocktail. Bottoms up.