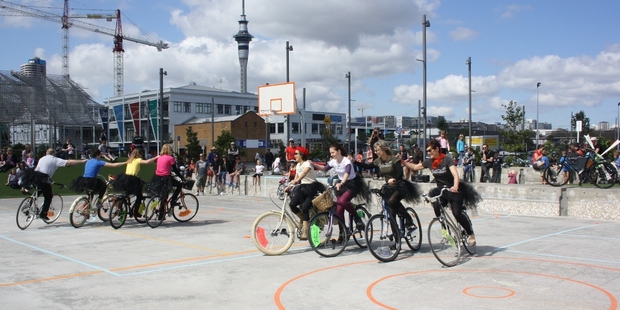 When I asked to come to a rehearsal, the Velociteers emphasised that there wasn't much to see because their fish costumes weren't ready.
Not a worry, I said. "Bike ballet" or "synchronised cycling", depending on your alliteration preference, doesn't need dress-ups to look good. But Velociteers founder Barbara Grace, an artist and a social worker when she's not on two wheels, brought along her costume sketch anyway.
It looks suitably amusing for a costume playing with the saying: "A woman needs a man like a fish needs a bicycle."
But also, says Grace, the dance is imagining that "fish have evolved out of the sea again and decided to get on bikes as the best kind of transport".
A science-fiction counter-historic environmental fantasy then.
Grace, who has also been involved with Frocks on Bikes, is making eight fish. "I'm totally fished-out making these costumes because I'm the one with the hot glue gun," she complains, clearly loving the job.
We meet at the bottom of Western Park, the venue for the Art in the Dark festival this coming Thursday, Friday and Saturday. The Velociteers formed for the first Art in the Dark in 2010; this will be their fourth festival and, in between times, they have also performed at Cycle Style Fashion Shows, the Sustainable Business Awards and the Melbourne BikeFest.
Tonight, the eight women of varying ages happen to have chosen eight bikes of different colours: pale blue, red, black, white, dark blue, bright green. One shows off her new MonkeyLetrics spoke-lights that look like cobwebs. The group moves like a shoal of fish. Then they pattern into chorus lines, circles, an accidental traffic jam in the middle of a figure 8.
They talk each other through the routine to music from one cyclist's tiny speaker.
"What is it now?"
"Feeding frenzy."
They all cycle towards each other - "Rooooar," yells Donna, aka Sporty Spice, who owns four bikes and is also one of the water-wading Wet Hot Beauties - inner Auckland's other quirky female-led form of synchronised outdoor physical expression. "Now find your partner," someone else instructs, and they pair off with their hands on each other's shoulders - not easy to do in a tight space.
Historic bike dancers include lady Victorians, for whom bicycles meant new freedom and transport independence. Across the Atlantic, New York's high class Michaux club danced the Virginia reel on their wheels indoors in 1896, reportedly "one of the prettiest sights in all Gotham".
Exactly 100 years later, the San Francisco Bicycle Ballet started up, and then the Sprockettes in Portland, Oregon. The Sprockettes perform raunchy burlesque acrobatics in pink and black. "We're more staid than they are," says Grace of her inspirations, but YouTube reveals the Velociteers are also more "bikey" than the Sprockettes; they actually ride the things, and don't just use them as dance accessories.
So why velocitate? "It's a fun way of doing cycling without being sporty," says Velociteer Ruth Barton. No Lycra in sight.