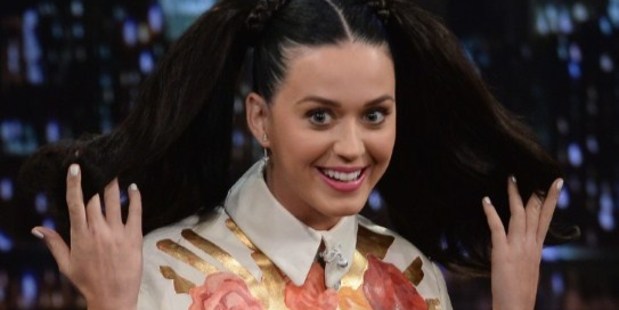 OMG, I can't even deal.
Katy Perry got a bit of a surprise during an interview on Aussie radio this week, when she was joined on the airwaves by comedian Chris Lilley's teenage alter ego and ultimate mean girl, Ja'mie King.
Perry spoke to the Private School Girl star during a segment on The Kyle and Jackie O Show, and the chipper pair got on like a house on fire.
"I love you so much Ja'mie," gushed Perry after King dialled in to the show. "And I have a question for you. Do you think I'm quiche?"
King replied: "Of course you're quiche. You're like the quichest girl I've ever met. I'm freaking out right now."
For the uninitiated, "quiche" is so very in right now. The phrase, spun by King on her TV show Ja'mie: Private School Girl (currently airing on Australian TV network ABC), is used to describe someone who is a step above hot.
The pair traded fashion advice, bantered about holidays, and Perry offered King some advice for bagging the attention of a new crush.
King later told Perry: "Roar is like my favourite song ever. I have it in my head when I play hockey and I'm hitting girls in the head with my hockey stick."
Lilley recently spoke about resurrecting "Australia's favourite b***h" for the new six-episode comedy.
"She [Ja'mie] kind of goes up a notch with this series," Lilley said. "And with everything that's going on, it's a lot more adventurous this time around."
He added, "I was excited by the opportunity to do a show purely about one character and I was excited by this character.
"I've dabbled in her world so much on We Can Be Heroes and Summer Heights High, and that sort of planted the seeds for a lot of little things that I thought would be fun to revisit and expand on."
Check out Perry chatting with King (Warning: Some explicit language) here.
NOTABLE NUGGETS
And finally ...
* "We heard back it was literally one of the worst auditions" - Jake Gyllenhaal reveals he tried out for the role of Frodo in The Lord of the Rings.
* Let the rumours fly: Robert Pattinson and Kristen Stewart spotted together.
* "She knew she had to go to drastic measures to let people just leave her alone 'cause nobody was going to let her grow up" - the legendary Dolly Parton talks Miley Cyrus.
* Jonas Brothers explain reasons for split.
* Check out Pamela Anderson's drastic new pixie cut!
* In Touch magazine thinks Anne Hathaway is a bit of a diva; rep responds.
* Oprah doesn't have a s**t list, and even if she did, Jenny McCarthy wouldn't be on it.
* Kanye West "turning into a bridezilla"? Perish the thought.
* "Are we Beliebers? Yes" - Justin Bieber gets some love from Metallica.
* Two years on: Demi Moore and Ashton Kutcher reportedly very close to settling divorce.
* Snooki responds to radio host who called her "f****** ugly".
And a glorious weekend to you all!
- Rumour Has It