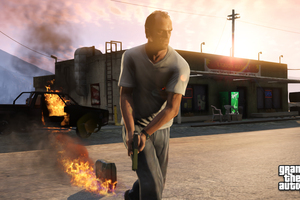 Publisher Take-Two have posted their second quarter financial results this morning, including sales information for the smash-hit Grand Theft Auto V.
In addition to record sales of some $1.5 billion (up 340 per cent year-over-year), the company revealed that they've shipped an incredible 29 million units of GTA V worldwide - eclipsing the lifetime shipped units of Grand Theft Auto IV (which is still on sale today), despite the latter title being available for five years, GamesIndustry.biz reports.
GTA V has been available for six weeks.
Other updates from Take-Two included the fact that Borderlands 2 - itself a very successful title - has now sold 7.5 million units, and that NBA 2K14, BioShock Infinite and Borderlands 2 have also shipped franchise-high units "in comparable time frames after release".
On the back of these announcements, Take-Two expect to achieve between $2.7 and $2.8 billion dollars in revenue for the full year, which should result in income of between $4.20 and $4.55 per share for investors - another record for the company.
- nzgamer.com