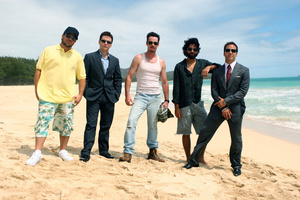 Entourage the movie is a go.
Jerry Ferrara who played Turtle on Entourage has confirmed reports that a deal has been signed to produce a movie version of the hit TV show.
In a tweet, Ferrara wrote: "I am proud to announce the #Entourage movie is officially a go! Have to thank @wbpictures and @HBO for all the support to make this happen!
Ealier in the day Ferrara told America's Wendy Williams Show the Entourage movie was "looking real good" and a deal for it "could be closed today".
HBO and Warner Bros are yet to comment on the deal but that's not deterring fans who have taken to Twitter to express their excitement.
American football player Conner Krizancic tweeted: "Best news of the day ... there will be an #EntourageMovie I can't wait @adriangrenier".
The HBO comedy-drama series premiered in the US in 2004 and concluded in 2011 after eight seasons.
Entourage also starred actors Jeremy Piven, Adrian Grenier, Kevin Connolly and Kevin Dillon.
It was executive produced by actor Mark Wahlberg and Stephen Levinson.
- AAP