Norton's excitability still locked on maximum as 14th series starts.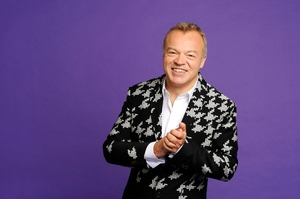 Graham Norton scampered on to the set of his show shrieking with the sort of excitement only the launch of your 14th television series could induce. And, even after all those shows, that boy can certainly shriek.
Of course shrieking's a key plank in Norton's campy shtick, possibly ever since he first won public attention in the early 90s at the Edinburgh Festival with his one-man drag act, playing a tea-towel-wearing Mother Theresa.
These days, though, 50-year-old Norton has long since settled into the middle of the road with a long-running career as a TV talk show host fronting The Graham Norton Show, where he does most of the talking and virtually all of the shrieking.
And his isn't the sort of TV talk show that cares much about the in-depth interviews that were the set pieces of the olden-days talk shows. If Graham Norton owes any debt to the style of the hosts of yore, then it's more to Dame Edna than Michael Parkinson. His is the "me me me" style of chat show, where the more fabulous and famous the guests are, the more fabulous and show-offy the host becomes.
It can be highly entertaining, just never particularly enlightening.
Last Friday night's new series launch, on TV3 at 8.30, brought on more of the Norton magic that has served him so well - mainly involving those big-star guests. On Friday, broadcasting just two weeks after it screened in the UK, Norton's show landed a very big fish indeed with Harrison Ford himself, in all his crinkly-faced, aw-shucks glory.
He also had hot posh actor of the moment Benedict "Sherlock" Cumberbatch, a funny young comic called Jack Whitehall and sugary pop singer James Blunt as guests, but they hardly mattered when Harrison Ford was sitting on the sofa.
Though the star spent most of the time looking like he'd rather be home on his own sofa with a beer and a ball game.
Like Dame Edna, Norton likes to deploy a little light sadism - seeming to push the boundaries of talk show manners with his guests. He subjected Ford to the lovelorn declamations of audience members.
And, finally turning his attention to Cumberbatch, he asked the odd-looking actor, "Are people still comparing you to an otter?" before providing some on-line visual support for the claim.
Even Cumberbatch - eventually - had to laugh.
Seeking something more serious on Saturday night, I turned to Manor Houses (Prime, 7.30), the sort of show that can only be blamed on the runaway success of Downton Abbey, a new series of which is currently also featuring on Prime.
As the title suggests, Manor Houses visits some of the grand old manor houses of Britain, pondering how life was upstairs and down and having a bit of a chin-wag with the current owner.
This might have been a bit of fun but instead we got the dull and puffy Charles, the ninth Earl Spencer striding about in his vast estate in his big wellingtons and telling the gripping tale of his leaky roof.
Even being the brother of Princess Diana didn't help make him or his large house full of old stuff passingly interesting, though there was a head gamekeeper called Adey Greeno.
Unfortunately, he was as dreary as his boss.