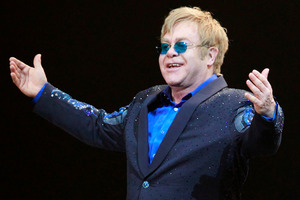 Sir Elton John has dismissed modern pop by "processed performers" such as Britney Spears.
The Candle In The Wind singer insisted the charts are now full of "packaged c**p" - unlike his songwriting, which he said is inspired by Bach and Beethoven.
The 66-year-old claimed singers lack the "soul and humanity" of Judy Garland or Nina Simone.
"Everything's too flawless now," he said. "Everything's autotuned, there's no trace of humanity. If you go and see a Britney Spears concert, you might as well stay at home and watch the video."
He was speaking at a function at the Royal Academy of Music, where he trained for six years from the age of 11. And the flamboyant singer-songwriter cited classical music as his inspiration: "If you love Bach, Mozart, Chopin and Beethoven, you can't help but be influenced. They wrote the greatest melodies of all time."
- DAILY MAIL