Kiwi band always enjoy coming home, as Paula Yeoman discovers.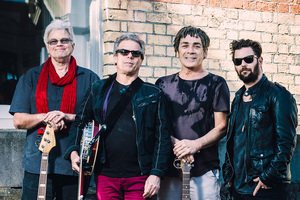 Kiwi rockers Dragon may be unplugging for their upcoming acoustic tour, but the band's legendary leader, Todd Hunter, says they still have every intention of bringing down the house - or this case, the church.
"This band can play anywhere, in a stadium, around one mic at a radio station. They're that seasoned that you can put any instrument in these guys' hands and it will work," he says.
The Classic Hits Acoustic Church tour starts at St John's Cathedral in Napier and ends at Old St Paul's in Wellington.
It will be the first time Dragon have performed entire acoustic sets in New Zealand and Hunter says they want to give the audience much more than just a bunch of unplugged Dragon tunes.
The New Zealand leg follows Dragon's Sunshine to Rain tour of Australia's east coast where Hunter and his band-mates, which now include Kiwi Mark Williams on vocals, have perfected acoustic versions of the hits April Sun in Cuba, Are You Old Enough and Still In Love With You.
Although born in Waitara, Hunter has lived in Australia for years but says he never tires of returning home to tour.
"It's so great to come back. I love it. You just drive around the corner and there are whole new landscapes there.
"I am so much more familiar with it than I am with Australia."
And this time around, he's looking forward to delivering a Dragon show with a twist.
"Every time you play a set there's a contour. You know, you get people up and involved and then you pull it back and then you go for the end.
"This tour gives you the chance to stretch out even more - lots of harmonies, banjo, and mandolin, whatever!"
Dragon's Acoustic Church tour starts in Napier on November 13 and ends in Wellington on November 23. They will be playing at Auckland's Holy Trinity Cathedral on November 16.