In the undead of night, a walk in the woods turns tough men into screaming little girls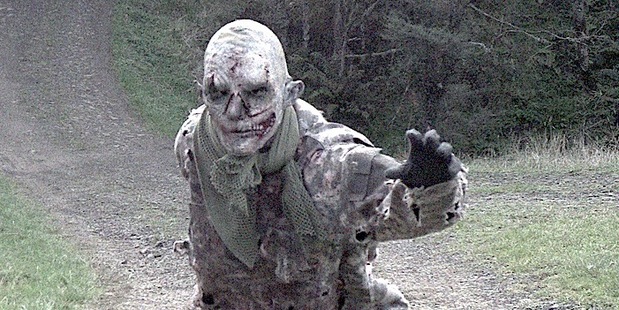 Andy Kenworthy
I am a 39-year-old man in excess of 1.82m who is squealing like a little girl because a man in a zombie costume has just grabbed hold of his leg. To be fair, it is the middle of the night in the woods just outside Muriwai and I am busy trying to crawl away through a wet concrete tunnel, but still I should have expected something like this.
However many times I told myself during the Zombie Survival Challenge that none of this was real, I never quite shook the fear of the awful dull-coloured entities lurching out of the trees and into the trembling torchlight in my hands.
And it was great.
The challenge was created by Stu Gilbert and Brad Smith, who drew on their experiences from previous military careers to create this uniquely hysterical test of nerve and presence of mind. The course requires participants to evade the undead while travelling to a series of checkpoints and challenges along a 2.5km meandering loop through the bush.
I took two teenage friends with me to check it out, hoping that they weren't fast enough to leave me for dead. The first thing that struck me was that this was no low-budget costume party. We were met at the gate by Brad in full black special-forces gear and a couple of camouflaged "bodyguards", who then escorted us to the convincing base camp in the centre of zombie country. The sound of the generators and the bright lights of the camp added to the disorientation, which was also seasoned with occasional blood-curdling screams and eerie groaning from the darkness beyond the fence.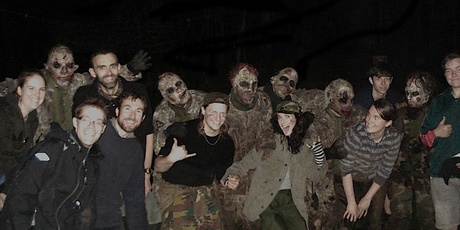 After a full safety and mission briefing, our first challenge was to use flint and steel to light a fire, then we were out into the woods on our own. The appearance of the first zombie was a shock, no matter how prepared we were for it. Several of our group immediately began screaming, and because I was at the back I found myself splitting my time between urging people on and heroically sprinting past them to ensure I was not the one closest to our pursuer - until I got stuck at the back of the line for the tunnel.
Three hours flew by with my pulse banging in my ears and my eyes popping out of my head about every three minutes. During one quiet moment I decided to take my jersey off, and then had to run away through the woods, with it half wrapped around my head, when a zombie shambled round the corner.
I was pleased to see that the overall quality of the experience and attention to detail left no room for the kind of cynicism I might have otherwise expected from the teenagers in my team. Despite their being streetwise city types, they relished the various challenges.
After a final teeth-chattering hide in the dark with zombies within sniffing distance of me and a frenzied rope climb up a muddy slope, we were back to reality for the free T-shirt, certificate, and bumper sticker. We also had a chance to meet our zombie tormentors. They never came out of character and looked as disturbingly convincing close up as they had out in the dark.
It felt a bit odd thanking them for a fabulous evening, but I did it anyway.
The challenge runs on Friday and Saturday nights most weekends, beginning at 8pm. $120 each. You must be over 14 to take part. Gift vouchers are available for Halloween, Christmas and other special events. If your teenagers haven't read this, sign them up, tell them they are going camping, and see how they get on. zombiesurvivalchallenge.co.nz
The same team is laying on a "Zombie Alley" indoor taster of the undead experience at the Armageddon Expo at the ASB Showgrounds today and tomorrow (includes a discount on the full challenge).