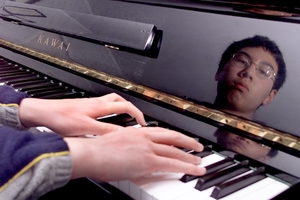 There were a few bead necklaces and cloche hats in the circle for Auckland Philharmonia's The Roaring 20s concert on Thursday.
Conductor Eckehard Stier introduced the evening prankster-style. The playlist had been changed, we were told, to four Haydn symphonies and some soprano arias sung by John Chen.
This suavely delivered jest came back to me during Poulenc's Les Biches, the concert's rip-roaring finale. This ballet score is positively mischievous, with an opening Rondeau that has flashes of pure music hall. Poulenc's palette veers from bright primaries to winsome pastels and the orchestra was spot on catching every shade in between.
How one appreciated the wit here, with those affectionate smirks in the direction of Stravinsky's Sacre and disarmingly sentimental string writing.
Gershwin's Rhapsody in Blue was the centrepiece, with John Chen as soloist.
It started awkwardly, with a nasty bump in the opening clarinet solo and Chen, well armed with his customary intelligence, did not always seem at ease with Gershwin's freewheeling romp around the keys.
Not so with Stier and his players. I was surprised to see them stay in their seats during one ebullient rumba section and the closing Grandioso really swung.
Chen's encore, a sentimental Respighi waltz, was touchingly quaint, a salon piece that would have been nostalgia to the 1920s flapper set.
The music of Kurt Weill opened both halves of the concert. It was crisply turned with outsider instruments such as banjo and accordion making their presence felt.
Yet there was something strange listening to music that is the epitome of lowlife sleaze and corruption, presented in tuxedoed formality under bright lights.
The opening suite from The Threepenny Opera was the more successful, but the later selection from Mahagonny had too many dull patches. To start with, it hasn't the sure-fire tunes of the other, and the Bruckner-Ruggeberg's arrangements are often pedestrian - a delicate Lento featuring alto saxophone and solo violin was welcome respite.
And how many really longed, in the Alabama Song, to hear the rasping voice of Lotte Lenya or Jim Morrison asking directions to the nearest whiskey bar and pretty boy?