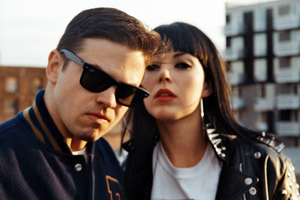 Frazzled guitar riffs, pummelling hip-hop beats and cutesy cheerleader chants. Over their first two albums, Sleigh Bells stuck to a simple formula that revelled in turning every volume knob up to ear-splitting levels.
That doesn't change on the Los Angeles duo's third album - check out the jugular-grabbing riot act of the title track - but Alexis Krauss and Derek Miller are squeezing more noisemaking nastiness out of themselves than ever before.
"God save you, I'm a demon," shrieks Alexis Krauss on Minnie, which combines tortured screaming, schoolyard chants and jarring shards of electro carnage with electrifying results.
Krauss' schizophrenic ability to switch between vicious vixen and vivacious sexpot really shines here, and she's obviously relishing her new role as Sleigh Bells' chief lyricist. "I'll put your heart on ice," she coos seductively on album standout You Don't Get Me Twice, before bellowing, "It's a terrifying thing, the American dream"with gusto.

As good as those late-album slower moments are - like the finger clicks and whistles of To Hell With You, and Love Sick's heartfelt chorus - they're really just breaks for the pair to catch their breath.
Sleigh Bells are best when they're blowing amps, smashing guitars and melting faces. Let's hope they never stop.
Stars: 4/5
Verdict: Los Angeles duo find the knob marked "11".