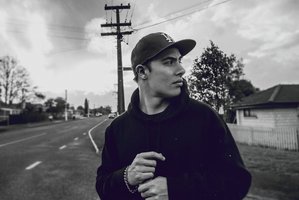 David Dallas' relaxed flow, his pop culture references, and the stories he chooses to tell, all make him relatable for many Kiwis, and yet his clever rhyming puts him on equal footing with Drake or Kendrick Lamar.
Bookended by swirling, contemplative tracks with Ruby Frost (The Wire and The Gate), Falling Into Place, is an immediately appealing sonic journey, and Dallas' longtime collaborators Fire & Ice deserve plenty of kudos for their effortless-sounding production.
The beats range in inspiration - lounge, blues, drum 'n' bass, island grooves - and they're full of strong hooks and samples, yet the layers never crowd in on Dallas' vocals.
Runnin' is an obvious standout, its stomping, hand clapping drive combined with the spooky gospel sample gives it a sound brimming with confidence, but there's plenty more on offer. Dallas is full of clever lines on Gotta Know ("pour it up like Rihanna, good girl gone bad, Charlotte to Samantha"), and How Long is the most honest sounding hook-up ballad in years.
He ably balances his Pacific roots with his global outlook (Al Pacino and Wiz Khalifa are referenced, but so too are Supergroove, David Lange, and Dam Native), and though you could say it's a darker record than previous releases, there's no doubt that Dallas has upped his game.
Stars: 5/5
Verdict: Clocking the game