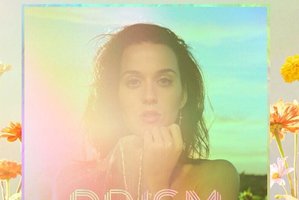 Innuendo may seem too weak a word for a woman who attached two spray cans of whipped cream to her bra and had them twirling around for a video, but it's certainly a signature approach for Katy Perry.
Her 2010 album Teenage Dream was smattered with winks and nudges, along with notes about self-confidence and, of course, love lost and found. Now she's divorced from Russell Brand, frolicking with John Mayer, and proclaiming to be a whole new pop star. Except despite the burning of her blue wig, and comments about the inspiration of Eckhart Tolle, Prism covers fairly similar territory to Teenage Dream, although with slightly more blunt lyrics, and a new-found love of 90s house.
This is no bad thing of course - Perry has made an art form of frothy, anthemic, girly pop, and when she's at her best, it's hard to ignore the allure of the musical confection she produces with an army of Swedish hitmakers.
Roar, her first single, and the opening track, is the perfect example.
It may be full of cliches of self-empowerment - a woman leaving her nice, polite girl facade behind, and embracing her tiger within - but it's hard not to get caught up in the righteous vibe.
From there, she dives right into some cheeky lovin'. There's a little lighthearted mysticism (hence the Eckhart Tolle comments presumably) on Legendary Lovers with auras, lotus blooms, and third eyes dotted through its Bollywood-ish Eastern pop influences. And they might all sound innocuous enough on their own, but the way she coos "say my name like a scripture, my heart beating like a drum", there's no mistaking her intent.
The sugary disco-house of Birthday takes it a step further, with Perry commanding you to "pop your confetti" before chanting "Let me get you in your birthday suit, it's time to bring out the big balloons". Of course it ends with a Marilyn Monroe-esque "happy birthday", and despite the silliness, and gleamingly polished nature of the beats, it seems likely to be another easy summer hit.
Walking on Air, however, leaves any subtlety behind, and simply lets rip with "Just when I think I can't take any more, we go deeper and harder than ever before, we go higher and higher, I feel like I'm already there" It's like a homage to the 90s British house scene, a retro-hit tailor-made for pump gym classes everywhere.
Her second single, Unconditionally, is actually one of the least memorable ballads here, but it does signal a slight change of pace on the album, as she leaves behind the bouncy fun and innuendo, and gets a little more serious.
Dark Horse is all deep, dark Timbaland-esque beats and bleeps, Ghost sounds like it was written for Mr Brand (where all the love, promises, and commitment used to be, now there's just an empty pillow, or echo, or ghost). Love Me is a somewhat overdriven commitment to put herself first, and By The Grace of God is Perry revealing exactly how devastated she was by her and Brand's break-up.
The thankful exception is This is How We Do, a cheer for mischief and good times that follows on from California Gurls and Last Friday Night.
Perry is at her best when she's slyly pouting and celebrating the naughty side of life, rather than getting overly dramatic or bogged down in sincerity.
Stars: 3.5/5
Verdict: At her best when it's all about the innuendo.
- TimeOut