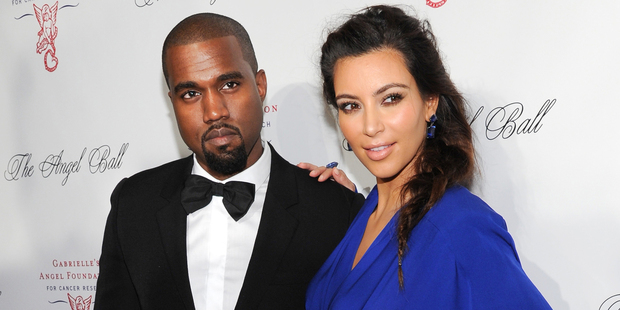 Kim Kardashian has broken her post-proposal silence, albeit briefly.
The reality TV queen, who got engaged to Kanye West after he popped the question on Monday, gushed to E! Online that she feels like "the luckiest girl in the world".
"Last night was truly magical!!! I am the luckiest girl in the world! I get to marry my best friend!" she told the website.
And ... that's your lot.
West, 36, pulled out all the stops for the surprise proposal.
The rapper hired out the entire AT&T Park baseball stadium in San Francisco for the occasion, and asked Kardashian for her hand in marriage in front of friends and family.
West first asked Kris Jenner, Kardashian's mother, for her blessing, E! Online reports, before he got down on one knee and proposed to the socialite with a 15-carat diamond ring by celebrity jeweller Lorraine Schwartz.
The singer also arranged for the words "PLEEEASE MARRY MEEE!!!" to appear on the stadium's scoreboard, while a 50-piece orchestra played Lana Del Rey's Young and Beautiful, and Keri Hilson, Ne-Yo and West's Knock You Down.
"YES!!!" Kardashian tweeted on Tuesday, along with a snap of her finger bling.
The bride-to-be's sister Khloe tweeted in response to the engagement: "Wow!!!!! Am I dreaming??!?!" she wrote, followed by, "Tears of JOY!!!!!!! Wow!!!!!!"
Kardashian's hairstylist Clyde Haygood also shared a pic of the reality TV star flashing her new bling on Instagram. "Guess what just happened #kimye," he wrote, before deleting the snap from his account.
'THE RING IS FLAWLESS'
And when it came to choosing said ring, West apparently had some pretty firm ideas about what he wanted.
"Kanye was involved in every single way. He had a vision from the beginning. He looked at a lot of stones and he wanted only the best," shared a rep for Schwartz. "He and Lorraine emailed back and forth, and stayed up nights discussing how he wanted it to be. He wanted the diamond to look like it was floating on air. Everything was his idea from beginning to end."
They added, "The ring is flawless. Not just internally flawless, it's flawless. It's a D-stone, the best diamond there is, type 2A. It's a perfect cushion cut diamond."
"A match made in heaven!" Kardashian matriarch Jenner gushed to E! Online about the engagement. "I am so happy for both of my kids, Kim and Kanye."
According to TMZ, cameras were also running during the lavish proposal, prompting chatter that the engagement will appear on a future episode of Keeping Up With The Kardashians.
Check out newly-surfaced video (via The Hollywood Reporter) of the West-Kardashian proposal below:
It'll be the third marriage for Kardashian, who was previously wed to NBA player Kris Humphries for just 72 days, and before him to music producer Damon Thomas. This will be West's first marriage.
West and Kardashian, who went public with their romance in 2012, welcomed daughter North West in June.
Needless to say, tongues have already started wagging about the couple's eventual trip down the aisle.
According to Yahoo! omg, the couple is planning not one, but two ceremonies.
"Kim wants to get married on the cliffs overlooking the sea in California, she's planning a night time wedding under the stars," chimed a source. "But Kanye wants to marry in Paris, flying everyone over to the hotel Le Meurice on two private jets.
"For him, it's the home of romance and he wants to marry on Parisian soil, it's symbolic for him and it's the place he considers to have been the biggest inspiration in his life."
Added the source, "They've been surprisingly calm about it, with Kanye telling Kim, 'There's no conflict, we'll have a wedding for you and one for me.'"
But the creative minds over at the Daily Star have other plans for the couple.
Per the tabloid, the lovebirds are revving up to trot down the aisle in...Las Vegas.
"Kanye is a big Elvis fan and he thinks it would be fun to get married in a chapel," shared a so-called "source" close to the pair.
"It was his suggestion and he was surprised when Kim said it was a great idea. Before he proposed, the couple checked out the Graceland Wedding Chapel, where Jon Bon Jovi got wed, as well as Miley Cyrus' parents. They know it's cheesy, but it's kind of sexy and cool at the same time.
"They want to have an Elvis impersonator singing Love Me Tender."
Oh, to be a fly on the wall during that vow-swap!
To be continued...
NOTABLE NUGGETS
And finally ...
* Yep, when Johnny Depp trades his dark locks for a lighter hue, it's news.
* Tim Burton may actually be making Beetlejuice 2; and Michael Keaton is also expected to reprise his role as the title character. I'm in!
* Batten down the hatches: Courtney Love is gearing up to release her memoirs.
* Prick up your ears, folks: U2 slip new song Ordinary Love into Mandela trailer.
* Lady Gaga won't be seeing the inside of a court after all.
* Katy Perry flips open the ex-files again.
* Michael Jackson tops Forbes list of highest-earning dead celebs.
* Kelly Clarkson's wedding, now with video.
* Put the panda down, Miley Cyrus.
* Joan Collins, you're looking damn good for 80.
* James Cameron confirms Stephen Lang will appear in Avatar movie sequels.
* Watch: Move over, Hulk Hogan. Betty White spoofs Miley Cyrus' Wrecking Ball music video in a new promo for her Off Their Rockers TV series.
"I got some ideas from recent pop culture events that really got the kids talking," the 91-year-old says in the video. "Can someone bring me a sledgehammer?"
Heck, she's even got a foam finger...
- Rumour Has It