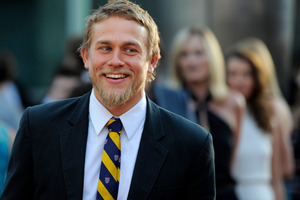 He recently made headlines by walking away from one of Hollywood's most sought-after roles, but now Charlie Hunnam is revealing why he had to exit the role of Christian Grey in Fifty Shades of Grey.
The actor was at Mo's Restaurant in Burbank where he was attending at the second annual Hogs for Heart event, a benefit that aids the One Heart Source Education Programs in Africa.
While at the event, the 33-year-old opened up to E! about his choice to leaving the role and how he is doing since the decision.
"I am doing good. I am just really concentrating on work," said the Sons of Anarchy star. "It's been a really busy time.
"I have had some family stuff going on so just trying to stay focused and stay positive and keep trying to do a good job at work and be with my family," admitted the actor.
The family matters that Hunnam might be referring to have to do with his father Billy, who recently passed away in May.
"Like I said, I've got some family stuff I have to tend to. So when I wrap the show, I am going to go to England and see my people and then I have a film that I am doing with Guillermo [del Toro]. So I am going to go and do that and concentrate on the final seasons of Sons."
Universal Pictures and Focus Features announced earlier this month that the British actor who was to play Christian Grey will depart the project.
The studio called it a mutual decision because Hunnam's preparation time was limited by his television schedule.
It was an abrupt and embarrassing switch for a high-profile film. Fans of EL James' erotic best-seller are eagerly awaiting the movie adaptation, which will be directed by Sam Taylor-Johnson.
Dakota Johnson remains in the co-starring role of Anastasia Steele. A replacement will be sought for Hunnam, who last month said he initially turned down the role.
When his casting was announced in September, many vented online that the Pacific Rim actor was ill suited to play the seductive billionaire. Producers Dana Brunetti and Michael De Luca took to Twitter to defend the choice, maintaining their two leads had good chemistry together.
Hunnam plays Jax Teller on FX's hit show Sons of Anarachy, which is filming its sixth season. The actor talked about his emotional bond with the cast of the one-hour drama.
"We are like a family and have become very, very close and become dear friends to each other so it's going to be sad and finish up and say goodbye to everyone, but we've got like 13, maybe even a few more, episodes," he said.
The cast of Sons of Anarchy played host to the benefit, which was able to raise $90,000 on behalf of the charity.
- The Daily Mail with AP