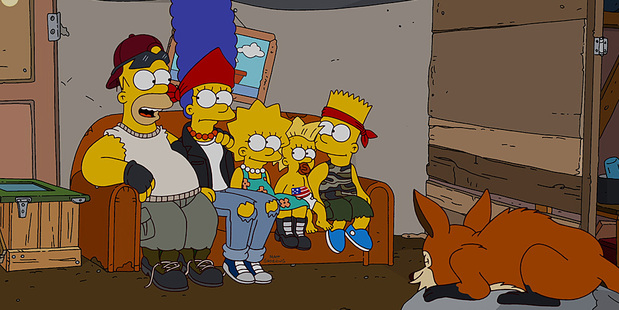 A series of angry, occasionally bizarre whinges have been unearthed in a trawl through the US Government's archive of informal complaints about The Simpsons.
Governmentattic.org has posted all the informal complaints the Federal Communications Commission (FCC) received about The Simpsons from 2010 to 2013 on its website.
The records show some viewers took an extremely conservative line on the show's more out-there antics.
One viewer was upset by a 'nude' scene.
"A family cartoon show, Mr Simpson was in his house totally nude & went outside naked while his neighbor was watering her grass. Then his wife ran out of the house trying to cover him with a towel," the complainant said.
Several people called or wrote to the FCC to complain about bad language.
One was unhappy at a line of dialogue on the show.
"One line was about whipping someone's toosh."
Another called in to report what they considered to be inappropriate dialogue.
"The caller wants to report that he heard them use the "A" word. He wanted to report that language being used," an FCC report on the complaint said.
Multiple complaints were received over scenes showing Bart Simpson being kicked in the groin.
"The Simpsons depicted a girl kicking Bart Simpson in the groin over and over and over, at least IO times, before he said, 'Stop kicking me in the groin' and she replied, 'No groin, no krav magra' and then she resumed repeatedly kicking his genitals," one said.
Another said: "The show The Simpsons depicted Lisa Simpson kicking Bart
Simpson in the groin leaving him lying on the floor in sexual agony."
Others objected to the show for religious reasons.
"I found the shows portrayal of Ned Flanders as a mindless killer following the orders to kill people from Homer Simpsons transponder bible highly offensive. Further, the depiction of God as subservient to Satan is blasphemous and revolting to a true Christian believer. The "God" character referring to Satan as "the big guy downstairs" is highly~offensive. The next affront to my faith is hte depiction of God as a servant to Satan by giving Satan a cup of coffee. This is all the further I cared to watch this program. This depiction of Christianity has become a standby for "The Simpsons" and I find it highly offensive."
- nzherald.co.nz