MyAnna Buring is making a surprising return to Downton Abbey in tonight's fourth season opener.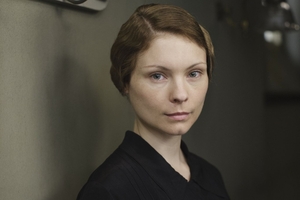 Cora, Countess of Grantham, or whoever does her hiring for her, seems to be a poor judge of character. First the American-born chatelaine of Downton Abbey (played by Elizabeth McGovern) takes on Miss O'Brien as her lady's maid, only to have O'Brien plant a bar of soap on the bathroom floor, resulting in Cora losing her unborn baby. And now, in need of a replacement, the countess has chosen Edna Braithwaite - the maid dismissed during the 2012 Christmas special for pursuing Tom Branson and getting above her station.
For actress MyAnna Buring, the return of Edna came out of the blue. "I had no idea I'd be returning ... I thought that was it," she says, referring to her character's abrupt departure in 2012. "And then I got a call saying Julian [Fellowes] would like to write me back in."
Did Fellowes say why? "No, they didn't give me a reason - maybe they just loved Edna."
And maybe they also needed a replacement when Siobhan Finneran, the actress who played O'Brien, decided not to renew her three-year contract.
The reason for O'Brien's departure is revealed in tonight's opening episode, but in the meantime Edna wastes no time in discovering a kindred spirit in O'Brien's old partner in crime, Machiavellian under-butler Thomas (Rob James-Collier).
"I think she just wants to get ahead," says Buring. "She's born into an era when where you're born, and to whom, dictates how your life's going to be. Your entire life, stuck. That must have been an incredibly claustrophobic feeling."
So there are fun and games ahead with a character who's already been dubbed "Evil Edna", but precisely what fun and games it's hard to ascertain because of the familiar Downton omerta - or as Buring puts it: "The gods of Downton ... I feel they're on my back." She is willing to report that it's a happy set and that she's been welcomed back by the tight and settled cast.
Buring is also one of the leads in BBC1's answer to Whitechapel, Ripper Street, in which she plays brothel-keeper Long Susan. But such exposure has only come gradually to the Swedish-born British actress who's full name is My Margaretha Anna Buring Rantapaa (her teachers thought My "a ridiculous name" so she became MyAnna - "although I don't like being called Anna ... that's my grandmother's name").
Buring's breakthrough movie was the much-admired 2005 female cavers-in-peril horror The Descent, while further plaudits came via director Ben Wheatley's Kill List, in which Buring played ex-Army hitman Neil Maskell's wife.
Now aged 33, there is a sense that she has been distancing herself from the horror genre. "For sure," she says. "But I'm very grateful to horror - Kill List three years ago changed my career massively. People suddenly went, 'Oh, she can play meatier parts'."
Such was her growing confidence that Buring sent off a showreel to the producers of the Twilight vampire franchise in the States - and won, two weeks later and without so much as an audition, the role of "vegetarian vampire" Tanya of the Denali coven in the final two Twilight films.
"They didn't eat humans, they fed themselves on wild animals instead," she explains. "A bit like vegetarians who eat fish, I guess."
Both Buring's parents are Swedish, but she moved to the Middle East at the age of 2 after her father, an orthopaedic surgeon, took a job in Kuwait - although the family were living in Oman by the time Saddam Hussein invaded in 1990.
"If you looked on the horizon there was this thin black line of smoke, which was all the oil-fields burning."
She attended a British-American school in Oman, before attending drama school in London. One of her first roles on graduating was in the David Tennant-era Doctor Who episode The Impossible Planet, in which her character, Scooti, perished in the vacuum of space, weightlessness being simulated in a water tank at Pinewood.
Yet-to-be-seen projects include a film with Matthew Macfadyen, Epic, and Hyena, about police corruption in London.
But it's the role of Edna in Downton Abbey that is going to thrust Buring into the limelight. Having been written out once, is Edna set to stay this time? Has she signed a three-year contract? Even before the question is out of my mouth I can see Buring clam up under the watchful gaze of the gods of Downton. "I, er, mmm, possibly, I don't know."
TV profile
Who: MyAnna Buring as troublesome maid Edna Braithwaite
What: Downton Abbey Season Four
When: Tonight, 8.30pm
- Independent