Silo's last show of the year, 'Midsummer', is an anti- love story with songs. Dionne Christian reports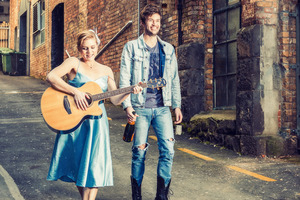 Theatre-maker Sophie Roberts gives a wry smile when asked what attracted her to the "play-with-songs" Midsummer. Roberts, who has built up an impressive list of directing and acting credits in Auckland and Wellington, says she's far too cynical to be a fan of musicals or romantic comedies - and Midsummer is kind of both.
But when Silo Theatre artistic director Shane Bosher asked her to direct it, Roberts did what many others who read or see the play do - she fell in love with it. So, when she talks about it, she uses the types of words used to describe rom-coms: heart-warming, charming, feel-good, but a few other words sneak in that aren't usually attached to rom-coms.
She says it's a wickedly funny anti-love story, which you could equally enjoy if you've just fallen in love or your relationship has hit the skids, low-fi and kind of grungy: the perfect indie love-story for a harder-hearted sceptic.
Helena (Aidee Walker) is a divorce lawyer with a penchant for married men; Bob (Dan Musgrove) is a petty crim whose ambitions to be a poet stalled long ago.
When they meet in a bar, drunken recklessness and awkward sex follow during a wild 24-hour spending spree in which the two transform themselves into a Bonnie and Clyde-type duo and ultimately - in their own inimitable fashion - face up to their contemporary and slightly existential dilemmas about life, love and the universe.
Occasionally they break into song to express their innermost feelings.
Musgrove says Midsummer is a "play with songs" rather than a musical because the latter conjures up images of big set numbers, soaring orchestral compositions and polished choreography, whereas this is acoustic with "folksy" and simple arrangements.
If it sounds like a Silo musical, non-traditional and pretty much the opposite of bigger budget stage shows like Wicked, that's because it is. Roberts especially wanted to direct Midsummer because although it had plenty of "did-they-really-just-say-that" lines, those words weren't actually assigned to specific characters.
"When Shane gave the script to me, I got very excited because the lines aren't assigned to either of the characters, so it's like a great theatrical provocation to decide who gets what text," she says. "It's kind of like making a devised piece of theatre - and I've done a lot of that - in terms of the scope to be really imaginative, plus I was interested in working with musical director Abraham Kunin."
Then there was the matter of deciding not only which character said what, but how it would be said. Written by Scottish playwright David Greig and scored by Gordon McIntyre, Midsummer has been described as a love song to Greig's hometown, Edinburgh.
American versions have relocated the story to New York, but Roberts feels the production works best if it stays in the Scottish capital. For Musgrove and Walker, that's meant working closely with dialogue coach Kirstie O'Sullivan to perfect the necessary accents. "There's a lyrical quality to a Scots accent which somehow makes the text more comedic," says Roberts.
It has brought back happy memories for leading man Musgrove, 31. Between finishing high school in Wellington and starting his drama school studies, he spent three months in Edinburgh at the age of 18, working and soaking up the atmosphere during the city's arts festival. He worked at a fast food joint called Potatoland (and recalls stuffing baked potatoes with haggis and repeatedly burning his hands as he lifted steaming spuds out of stoves) and saw back-to-back theatre shows.
Musgrove says it was a great time, but recollections of specific locations are hazy, partly given the passing of time. "Anyway, that kind of fogginess suits this show," he says, adding he never had a night as wild as the one Helena and Bob experience.
They are, as the title suggests, in the midsummer of their lives. It's the point, says Musgrove, where you realise you're an adult - and have been for some time - and should really, even if it is reluctantly, take some responsibility for where you're at in your life.
"You can't say, 'I'm growing up; this is part of my journey toward adulthood' because you're there and it's more like, 'what have I done and why did I do it?' Everyone has those moments when they wonder how they got to where they're at and they start to reflect on how different things might be if they had done things slightly differently."
Perhaps best known for his TV role as Mr Asia Marty "rhymes with party" Johnstone in Underbelly: Land of the Long Green Cloud, Musgrove is an accomplished theatre writer who's known Roberts since their days at Toi Whakaari: New Zealand Drama School. The first play she directed, Blinkers, was written by Musgrove and writing partner Natalie Medlock.
Though he is relishing a return to the stage - and revisiting his guitar playing and singing - Musgrove sees a lot more writing in his own future. He and Medlock have just received NZ Film Commission Funding to develop a full-length feature film.
Performance
What: Midsummer (a play with songs)
Where and when: Q Loft, October 24-November 23