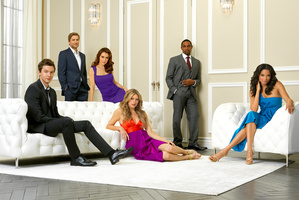 Jes Macallan is no hopeless romantic. The actress, who stars in the new TV2 drama Mistresses where she plays sexually-assertive free spirit Josslyn Carver, put her honeymoon on hold for the opportunity to break into Hollywood in her first big role. The 31-year-old who stars alongside, Alyssa Milano (Charmed), Yunjin Kim (Lost) and Rochelle Aytes (Desperate Housewives) in the sexually-charged drama, was far from a dutiful newlywed wife during her first week of work - and she relished every minute.
"I got married two days before we filmed the pilot, it was insanity, it was hysterical," says Jes, who is married to Monk actor Jason Gray-Stanford.
"The honeymoon was the show for me, and my character got to have sex with everyone. I told my husband 'So, we got married and I've had sex with, like, seven people within the past week, so I'm the worst wife ever'," she says.
A less risque and much more glamorous version of the BBC series that ran from 2008-2010, the show follows four friends' experiences of adultery.
Macallan's character, real estate agent Josslyn, is the show's equivalent to Sex and the City's Samantha Jones. The actress defends her character's promiscuity, and says from personal experience that adultery is part and parcel of life.
"There was infidelity in my parents' marriage. I worked out early on what works about marriages and what doesn't and I was my dad's best friend during their divorce," says the Florida native, whose parents split when she was in high school. "It's really easy to find compassion for a choice like that when it's someone like your mother or your father and you have to love them both. You know that they loved each other, and somebody just messed up somehow. You can't help who you love."
Before landing Mistresses, the business school graduate's largest parts had been guest roles in TV series NCIS Los Angeles and Grey's Anatomy. The producers of Mistresses made her audition eight times before signing her on. Casting the leggy blonde as the younger sister of Milano is perhaps a bit of a stretch - Macallan towers over the 157cm star - but the pair have genuine chemistry and the actress says she learned a lot from Milano who played Samantha Micelli on sitcom Who's the Boss for eight years.
"We had a great time filming. Alyssa Milano is very seasoned, she's been working forever, and I was always trying to sponge [knowledge] off her."
Although she has a lot more reservations than her character, Macallan says she had no qualms about Josslyn's same-sex relationship with real estate client Alex (Shannyn Sossamon).
"Filming sex scenes can be awkward but Shannyn is a delight to work with. I think Josslyn's relationship with Alex is so interesting. This is someone who really understands her, and she thinks 'Oh my God, I can actually be myself.'
"When I read the script, I was immediately attracted to Josslyn. She's the girl that everyone wants to be in the sense that she can act upon every whim and say whatever she feels. I fought for her because I really wanted to play that."