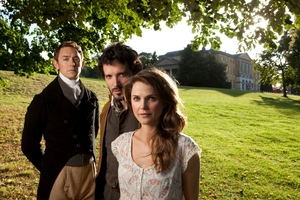 This slightly offbeat romantic comedy is the brainchild of Jersuha Hess who, with her husband Jared, co-wrote the weird and wonderful Napoleon Dynamite and Nacho Libre.
Adapting a Shannon Hale novel, first-time director Hess finds a great premise that gently pokes fun at the works and fans of Jane Austen. Keri Russell stars as Jane Hayes, an Austen obsessive who has a life-size cutout of Colin Firth in her period living room. Attempting to find her own Mr Darcy, Jane spends her savings on a trip to an English theme park called Austenland where actors in Regency costume prance around acting out a storyline written for each guest.
Among Jane's intake are wealthy middle-aged women looking for sex and genuine fans like Jane, known at Austenland as "Jane Erstwhile, an orphan of no fortune".
She meets two suitors, the Darcy-esque Mr Henry Nobley (J.J. Feild) and stable-hand Martin (Flight of the Conchords' Bret McKenzie) and Austen's themes of class, wealth and gender inequality all get an airing as Jane struggles to work out what's real and what's part of the trip package.
It's probably unfair to compare the film and its source inspiration too heavily but this plays out like a weak modern-day Austen novel.
If you're expecting a highbrow film worthy of the wit, charm and smarts of the author you'll be disappointed. If, though, you're looking for a lighthearted romantic comedy that nudges the boundaries of silliness then Austenland may just be what you're after.
Stars: 2.5/5
Cast: Keri Russell, J.J. Feild, Jennifer Coolidge
Director: Jerusha Hess
Running time: 97 mins
Rating: PG (violence, coarse language and sexual references)
Verdict: Clever idea poorly executed, but still worth a laugh