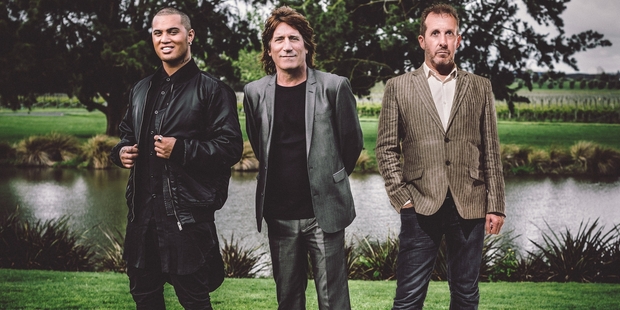 The line up for the 2014 Winery Tour has been announced today, with two acts reuniting for the event.
The Exponents will be performing in their original line-up, while Breaks Co-Op, with a new album in the works, will perform in New Zealand for the first time since 2006, and Stan Walker will continue his reign as New Zealand's king of pop, showcasing songs from his upcoming fourth album, Inventing Myself.
If it sounds a bit like 22-year-old Walker may be the odd one out among a bunch of old dudes, he's not remotely fazed.
"I'm taking my place in the great circle of life and getting to tour with the people who have paved the way for artists like me. I can't wait."
Plus he'll bring his seven-piece band and four back-up dancers with him, so he won't be overwhelmed by the rockers, and he'll have a whole album's worth of new songs to share, too.
"It's a much more raw sound. More gravelly and more of a greater understanding of me - it's the greatest evolution of me."
UK-based Andy Lovegrove is also looking forward to sharing some new Breaks Co-Op material.
They played their last New Zealand show in Christchurch in 2006, but Lovegrove's mother passed away the same night, and the band ended up on a longer-than-expected hiatus. However, over the past three years, he's been working on a new album with fellow bandmate Hamish Clark (famous Kiwi BBC DJ Zane Lowe was the third member).
"I stopped making music for a while and focused on family and got married. My wife was trying to encourage me to start writing again but I was resistant so she contacted Hamish in Berlin, told him that she'd bought me a flight to come and see him, and that we'd better start making another album before I drove her mad. It was like we'd never been apart and the songs just kept coming and coming."
The soon-to-be-released first single is called Sounds Familiar, and Lovegrove says the whole album will, in fact, sound familiar to fans.
"It has all the electronic elements of the last record, maybe more so in fact, but it's more songwriting-led. Songs are king on this record."
Though he can't say much about the live performance yet (except that Lowe won't be joining them), he is looking forward to being back on tour with a bunch of Kiwi blokes - in fact, it will be the first Winery Tour in several years with no female stars involved.
"It could get messy, really messy. One long boys' night out."
The joking has started already of course. When asked what song he's most looking forward to hearing while on tour, Exponents drummer Harry Harallambi says with a wink: "I love that song of Stan's - One Day."
The Exponents will be celebrating 33 years of music by the time the tour rolls around next summer, but the four founding members (Harallambi, Jordan Luck, David Gent, and Brian Jones) still need to do some practice before the tour van leaves.
"After cocking up Why Does Love on Campbell Live, we will be rehearsing," Gent says emphatically.
"Weirdly, we have actually started rehearsing," Luck adds seriously.
"We recorded a set of songs this year that were popular live back in the day, but were never released, and some of them are going in the set."
They will be performing 17 dates across both islands, starting in Hamilton on Friday, January 31, hitting Villa Maria Estate in Auckland on Saturday, February 15, and finishing in Blenheim on Saturday March 1.
See winerytour.co.nz for more information on all dates and venues, plus ticketing options. Earlybird tickets are on sale from Thursday, October 24.
- TimeOut