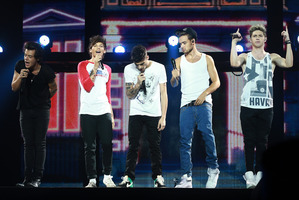 One Direction heart-throbs Louis Tomlinson and Zayn Malik have added to their tattoo collections during their brief stay in New Zealand.
The boy-band singers revealed their new inkings ahead of a final sold-out show at Auckland's Vector Arena tonight.
Louis has flashed a fresh tattoo of a famous computer game character.
"We went and did a bit of shopping [on Friday], and we got a couple of tattoos,'' he said in an interview with ONE News.
"I got this silly little Pac-Man here,'' he added, pointing to the back of his forearm. "And a web on my leg.''
Zayn, 20, who said he got another tattoo on his shoulder, praised the skill of Kiwi tattoo artists.
"The tattoo artists here are really good,'' he said.
The British boy-band are famous for their inkings, with Harry Styles believed to have more than 30, including one of a butterfly on his stomach.
The last time the five-piece band were in New Zealand, Malik got a tattoo of a fantail on his back.
They are among a growing list of celebrities opting for a permanent souvenir of their trips to new Zealand. This week R&B superstar Rihanna was filmed wincing as she had her right hand tattooed in Auckland, using a traditional Maori method.
One Direction are due to play their last show in New Zealand tonight before flying to Australia for the next leg of their Take Me Home World Tour.
Hundreds of fans have been camped outside their hotel all weekend hoping for a glimpse of the boys.
Malik said the band - which also includes Liam Payne and Niall Horan - are still surprised by all the attention they generate.
"We never really expected it, and we never really knew how long it was going to last or how far it was going to go,'' he said about the band's fame.
"So we're still surprised every day when we wake up and we have fans outside and people are still chasing our car and stuff. It's still weird, it's still crazy, [but] it's still all part of the fun for us.''
Tomlinson added: "We have a really hard core fan-base that just seem to know everything about us.''