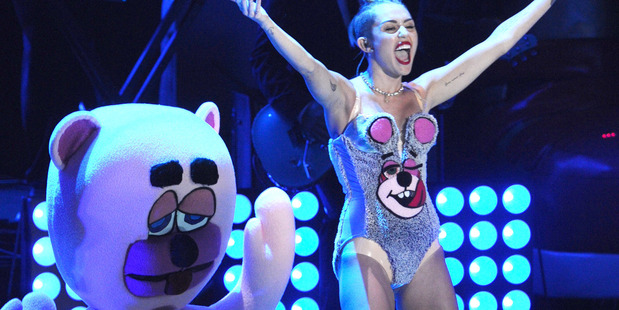 A little person dressed as a dancing bear during Miley Cyrus' controversial MTV performance says the show made her feel "less than human".
Actress Hollis Jane has taken to the internet to describe how she felt belittled during the recent MTV Video Music Awards when dressed as a dancing bear during Miley's performance of We Can't Stop.
Miley grabbed headlines for "twerking" during the performance, and for her next song, in which she stripped to a skin-coloured bikini to writhe around Robin Thicke while he sang his hit Blurred Lines.
In a blog post, Jane said she would never forget the peformance because it was a "line in the sand" for her.
"I had never done anything in a costume with a mask like that before ... I had never been in a performance where I was purely meant to be gawked or laughed at.
"After our first dress rehearsal in the costumes with the crew, publicists, performers etc watching us, I walked out of the Barclay Center shaking and crying.
"I was being stared and laughed at for all of the wrong reasons. I was being looked at as a prop ... as something less than human."
Jane said she turned down a position as one of Miley's tour back-up dancers because of the way the MTV Awards made her feel.
"It felt like society still saw us as a joke, despite the fact there is literally nothing different about me other than the fact I am small.
"If the little person community continues to do performances like this, it is my belief that we will continue to only receive maybe 2 per cent of the auditions and opportunities of our average sized friends.
"Society will think we're okay with being laughed at because we still continue to do things that allow them to laugh at us or look at us as props."
Meanwhile, Thicke has blamed the show's raunchy behaviour on Miley, telling Oprah Winfrey, "that's on her".
In a new clip for an upcoming episode of Oprah's Next Chapter, the 36-year-old singer claimed he wasn't aware of Miley's raunchy antics.
"You didn't think of it as sexual?" Winfrey probed.
"Well, I was on stage, I didn't see it, you know," Thicke responded.
"So to me, I'm walking out towards Miley, I'm not thinking, 'sex,' I'm thinking 'fun'," the Blurred Lines singer explained.
Curious how that could even be possible, Winfrey - who physically displayed her distaste for the situation - interrupted: "But she was twerking up against your kahoonas."
"But you have to remember I'm singing my butt off, so I'm sitting there, I'm looking up at the sky, I'm singin," Robin quipped.
"Im not really paying attention to all that. That's on her," he laughed.
"People ask me, 'Do you twerk?'
"I'm like, 'Listen, I'm the twerkee. I'm twerked upon. I don't twerk myself, okay? I'm just twerked upon'."
- nzherald.co.nz with The Daily Mail