Classic CD review
Bartok: Violin Concertos (Harmonia Mundi, through Ode records)
Verdict: Violinist revitalises Bartok by going back to the source ...
Stars: 5/5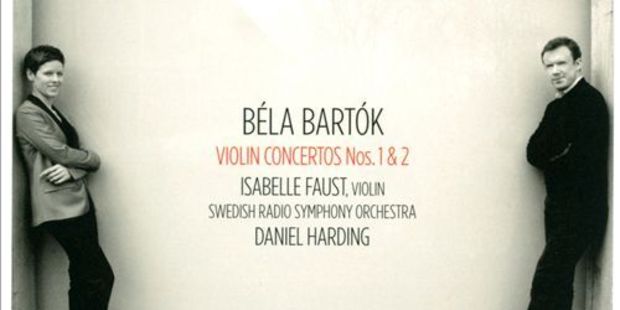 Isabelle Faust made her debut with Stuttgart's Bach-Collegium, recorded as part of the Hanssler label's reputable Bachakadamie edition.
Moving to Harmonia Mundi in 2003 enabled the German violinist to widen her repertoire, taking on projects that included the stimulus of revitalising familiar music by investigating original manuscripts and sources.
Her 2009 complete Beethoven sonatas with pianist Alexander Melnikov was such a venture. Groundbreaking in its time, four years on, it has no competition.
Last year saw her coupling Beethoven and Berg with conductor Claudio Abbado. Not only was each work rendered with the perfect blend of scholarship and soul, there was something bigger here; an unspoken dialogue between two composers and their concertos, across the centuries.
Faust has now taken on Bartok's two concertos, works that impress her as having been inspired by the composer's friends and chamber partners.
Reading the violinist's booklet essay is highly recommended. The detailed background offered for both the 1908 First Concerto and its 1939 companion should bring a blush to the cheeks of any pedestrian programme-note scribe.
Importantly, what you read is what you hear. Discussing the theme from the Second Concerto's middle movement, she imagines "a peasant girl who is humming this melody, so poignant in its simplicity".
And this is the key to her interpretation, undertaken in glorious partnership with the Swedish Radio Symphony Orchestra under Daniel Harding.
Put this slow movement alongside the Andante sostenuto that opens the First Concerto and you hear a subtle change of tactic. Here one is struck by the alchemy that creates such fragile beauty from what amounts to rigorous musicological detective work.
Put the two Finales side by side and immediately you can hear the raw, bucolic edge of the First Concerto that, 30 years later, has become something more sophisticated, however, no less in touch with the earth that inspired it.
Are people still wary of Bartok? I hope not. For those who do tremble, I suggest sampling the Second Concerto's opening pages and realising that this music is not really so far from Barber or Korngold, with a dash of paprika.